VDI Senior Engineer
Waltham, Massachusetts; Brooklyn, New York; Hicksville, New York; Syracuse, New York
Overview
Our IT ambition is to be recognized for 'Transforming National Grid into the leader of the digital energy future'. Market innovation will drive the digital utility. We plan to enhance our IT offerings, mature the way we interact with our business partners, and transform the culture of our teams. Culturally, we will be placing a stronger emphasis on designing systems around the end user. We are establishing an operating model based on accountability and empowering our workforce to share ideas and drive continuous improvement. There will be clear career options within the company, both management and technical. We are focusing on enhancing and investing in both leadership capability and developing necessary technical expertise.
Job Description
VDI Senior Engineer
Organization Information Technology
Department IT Infrastructure and Operations
About us
National Grid is hiring a VDI Sr Engineer on our IT team. The preferred location for this role is Waltham, MA.
Every day we deliver safe and secure energy to homes, communities, and businesses. We are there when people need us the most. We connect people to the energy they need for the lives they live. The pace of change in society and our industry is accelerating and our expertise and track record puts us in an unparalleled position to shape the sustainable future of our industry.
To be successful we must anticipate the needs of our customers, reducing the cost of energy delivery today and pioneering the flexible energy systems of tomorrow. This requires us to deliver on our promises and always look for new opportunities to grow, both ourselves and our business. IT and Digital works in a harmonized partnership with the National Grid group of diverse energy businesses to deliver technology which revolutionizes the way we operate. As we lead the charge towards a carbon-free future, our teams are embracing disruptive changes in our industry by working with Agile methodologies and adopting Digital mindsets to drive efficiency and bring new capabilities for our internal and external customers.
Our work here is critical. National Grid moves energy to millions of homes and businesses in the UK and US and the technology we utilize to complete that task is down to us. The successful applicant for this position will be an integral contributor towards this goal and we will support your professional development as part of our multi- cultural, customer-centric global team.
Job Purpose
Organizations that want to keep pace with a flexible work world and attract and keep talented employees need to create a digital workplace where team members can work seamlessly anytime, from anywhere. National Grid must undergo significant transformation to create a digital workspace that will meet the growing needs of our Business and end users. The VDI Senior Engineer is a crucial role to help fulfil this mandate. This high demand function sits within the Digital Workplace Services team.
The primary role entails driving Strategic and Engineering direction for the Device and Data Access (DDA) area within the Digital Workplace team. The VDI Senior Engineer will work closely with Vendors, Partners, Project teams with recommendations for short term tactical improvements and solutions, while being a key contributor for long term strategic and engineering solutions for the future. You will interface with key stakeholders within IT and the NG Business to clearly define, communicate, document, and engineer solutions within the DDA space. This person interacts and works with the Operations teams on high level incidents and assists with the troubleshooting of escalated issues from within the operational regions. You will work closely with Solution Architects across all of IT and within the project space, to ensure, maintain, and deliver a world class user experience with continuing service improvement. The VDI Senior Engineer will also work closely with Business Enablement teams to ensure various modes of communication are used to market specific Product updates, improvements, and experiences.
Key Accountabilities
The areas of focus for this role are VMWare Horizon, Citrix and platforms such Azure, AWS, and google Cloud Platform and on-prem solutions

Implementation of new key initiatives within the Device and Data organization regarding desktop virtualization technology

Solid understanding of vCenter, and VMWare ESXi

Accountability of Engineering solutions for current state and future vision that align to overall product roadmaps

Works closely with architecture, engineering manager, product owners, and delivery functions to provide a world class end-to-end product experience to end user customers

Provide insights into products, technologies and market trends while keeping updated with the latest technologies

Troubleshoot complex software and hardware issues as the final IT escalation level

Develop close relationship with vendors, business and technology leaders

Document solutions, SOPs and endpoint configuration standards

In charge of hardware testing and selection across many business areas

Present team recommendations to management, communicate technical issues in a concise and clear message

Work with IT Communications and Business Enablement teams to develop materials to market products

Assist with driving a smooth product transition to operations and support via infrastructure operations best practices such as ITIL, and a high capability maturity

Embrace new ways of work by understand the agile concepts
Supervisory/Interpersonal- Experience Required
Excellent interpersonal, oral and written communication skills and team work.
Excellent teamwork.
Strong interpersonal skills.
Qualifications
A bachelor's degree from an accredited educational institution in a technical discipline (computer science, electrical engineering) or equivalent experience

Minimum 7 years' experience within Virtual Desktop technologies, including hardware and configuration in Azure platform for VMWare Horizon, on-prem and other platforms

Solid understanding of Active Directory and Azure AD architecture and how it interacts with VDI

Group Policy, SCCM, Application packaging, Microsoft O365, Standard Operating Environment (SOE), encryptions methods such as BitLocker and Checkpoint

Experience writing and running Powershell scripts

A demonstrated and focused desire to build powerful, simple, well-designed products and services that customers will love to use

Working knowledge of agile development methodologies

An ability to think strategically and creatively, with the capacity for self-motivation, independent initiative and creative problem-solving

Excellent interpersonal and communication skills, writing documentation and presentations

The ability to manage time and adjust initiatives with proper prioritization to meet aggressive deadlines

An excellent and deep attention to detail and strong technical intuition, as well as the ability to set and manage expectations

Demonstrated success working in a fast-paced and deadline drive environment

Strong organizational and time management skills

Good leadership skills with experience collaborating and working with cross-functional teams
Salary
$94,000 - $120,000 a year
This position has a career path which provides for advancement opportunities within and across bands as you develop and evolve in the position; gaining experience, expertise and acquiring and applying technical skills. Candidates will be assessed and provided offers against the minimum qualifications of this role and their individual experience.
National Grid is an equal opportunity employer that values a broad diversity of talent, knowledge, experience and expertise.  We foster a culture of inclusion that drives employee engagement to deliver superior performance to the communities we serve.  National Grid is proud to be an affirmative action employer. We encourage minorities, women, individuals with disabilities and protected veterans to join the National Grid team.  
Success Profile
What makes you a successful Information Technology team player at National Grid? Check out the top traits we're looking for and see if you have the right mix.
Strategic
Inventive
Collaborative
Proactive
Results-driven
Leadership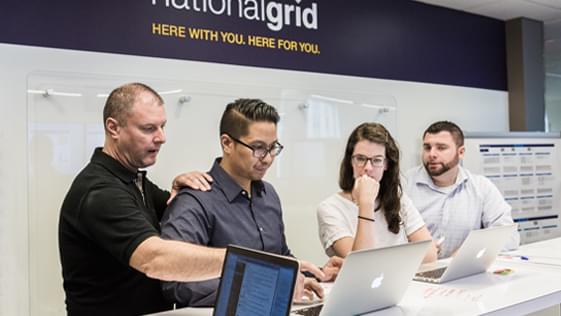 Our culture
A culture of inclusivity where the best ideas can come from anywhere.
A belief that we do our best work when we all work together.
An understanding that to engineer the future, you have to think out of the box.
Rewards
Healthcare

401(k)

Continuing education

Paid time off

Employee assistance (EAP)

Health & wellness
You may also be interested in