Solution Engineering Manager
Waltham, Massachusetts
Overview
Our IT ambition is to be recognized for 'Transforming National Grid into the leader of the digital energy future'. Market innovation will drive the digital utility. We plan to enhance our IT offerings, mature the way we interact with our business partners, and transform the culture of our teams. Culturally, we will be placing a stronger emphasis on designing systems around the end user. We are establishing an operating model based on accountability and empowering our workforce to share ideas and drive continuous improvement. There will be clear career options within the company, both management and technical. We are focusing on enhancing and investing in both leadership capability and developing necessary technical expertise.
Job Description
Solution Engineering Manager
Organization Information Technology
Department Global IT Solution Delivery
About us
Title:  Solution Engineering Manager
Location:  404 Wyman Street, Waltham, MA 02451
Req ID:  37109
Key Accountabilities
Define and implement our performance test strategy including roadmap, tools, frameworks & approaches across Products/Platforms. Lead and coach 6+ teams of engineers to build, enhance, and support multiple applications/services in the delivery of our engineering solutions. Oversee technological execution of the recommended scalable solution roadmap across product/platform teams. Collaborate with Product and Engineering teams to determine the scope and needs of performance engineering. Standardize and optimize current processes to enable them for process automation, digital initiatives, system deployments, new products etc. Develop a well-defined strategy that has broad agreement and is integrated with digital transformation efforts. Have a focus on improving the maintainability, increase automation in standing up the environments & servers and decrease manual effort. Work towards digitising products to enable delivery automation, release intelligence using Value stream management, Service & Data virtualization platforms. Drive optimizations in various test processes to ensure product quality and keeping cost at a minimum. Analyse the cost and benefits of QE initiatives that are aligned to business strategies. Work with engineers to troubleshoot any Performance related issues be it script /Code level, Infrastructure level or Application level. Develop and maintain strong working relationships with other IT solution functions and customers. Be research savvy and a subject matter expert of current industry-wide quality & test processes, tools and technologies. Help implement observability for Production & Non-Production systems. Establish team for Service Virtualization, Mainframe Virtualization, DB Virtualization, Synthetic Data Generation. Establish process for of server maintenance / data refreshes & chargebacks. Perform analyses to solve complex problems and motivate peers to produce creative products and services. Communicate across multiple audiences and work in a fast-paced environment and deliver high-quality work on tight schedules. Accomplish quality engineering human resource objectives by recruiting, selecting, orienting, training, assigning, scheduling, coaching employees; communicating job expectations; planning, monitoring, appraising, and reviewing job contributions; planning and reviewing compensation actions; enforcing policies and procedures.
Qualifications
Bachelor's degree in Computer Science, Computer Engineering, or a related field, or foreign equivalent degree and Six (6) years of related experience in providing end to end support of automation performance testing  and engineering from requirement gathering and root cause analysis to product support and  applications involving multiple ERP systems, e.g. Oracle, SFDC, Pega and SAP; Working on complex  IT projects using Performance Diagnostics (CA APM, Dynatrace, VisualVM, Xymon, CA CEM,  New Relic); Performance Tuning (IBM Workbench, Eclipse MAT, SQL Developer, TDA);Performance Testing (LoadRunner, Worksoft, NeoLoad); Performance Architecture (Omniture); Storage Domain  (VCE, Isilon, Vxrail, block storage, file storage, object storage); Pega (IMS); and Custom applications  (AIC, OLS, My Service 360); Servigistics; Big Data systems and architecture.  Experience must include working in Selenium Automation Platform and writing test scripts in Java, JavaScript, or C#  and experience with Agile Application Development and Scrum methodologies. Experience as  technical team lead to provide mentoring and guidance members, drive efforts for building teams and mentoring activities to improve technology capabilities or skills.
Salary $166,625 a year
National Grid is an equal opportunity employer that values a broad diversity of talent, knowledge, experience and expertise.  We foster a culture of inclusion that drives employee engagement to deliver superior performance to the communities we serve.  National Grid is proud to be an affirmative action employer. We encourage minorities, women, individuals with disabilities and protected veterans to join the National Grid team.  
Success Profile
What makes you a successful Information Technology team player at National Grid? Check out the top traits we're looking for and see if you have the right mix.
Strategic
Inventive
Collaborative
Proactive
Results-driven
Leadership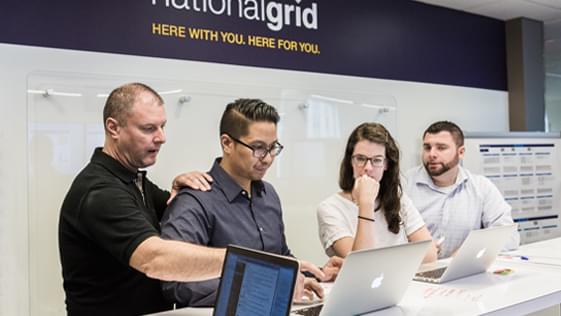 Our culture
A culture of inclusivity where the best ideas can come from anywhere.
A belief that we do our best work when we all work together.
An understanding that to engineer the future, you have to think out of the box.
Rewards
Healthcare

401(k)

Continuing education

Paid time off

Employee assistance (EAP)

Health & wellness
You may also be interested in