ServiceNow Lead Platform Software Engineer
Waltham, Massachusetts; Brooklyn, New York; Melville, New York; Hicksville, New York; Northborough, Massachusetts; Syracuse, New York
Overview
Our IT ambition is to be recognized for 'Transforming National Grid into the leader of the digital energy future'. Market innovation will drive the digital utility. We plan to enhance our IT offerings, mature the way we interact with our business partners, and transform the culture of our teams. Culturally, we will be placing a stronger emphasis on designing systems around the end user. We are establishing an operating model based on accountability and empowering our workforce to share ideas and drive continuous improvement. There will be clear career options within the company, both management and technical. We are focusing on enhancing and investing in both leadership capability and developing necessary technical expertise.
Job Description
ServiceNow Lead Platform Software Engineer
Organization Information Technology
Department Global SNOW & Enablement Services
About us
National Grid is hiring a ServiceNow Lead Platform Software Engineer for our ServiceNow Digital Platform Infrastructure Technology group in Waltham, MA.
Every day we deliver safe and secure energy to homes, communities, and businesses. We are there when people need us the most. We connect people to the energy they need for the lives they live. The pace of change in society and our industry is accelerating and our expertise and track record puts us in an unparalleled position to shape the sustainable future of our industry.
To be successful we must anticipate the needs of our customers, reducing the cost of energy delivery today and pioneering the flexible energy systems of tomorrow. This requires us to deliver on our promises and always look for new opportunities to grow, both ourselves and our business.
Job Purpose
You will play the role of the ServiceNow Lead Platform Software Engineer at National Grid. This position requires you to be an expert in ServiceNow design and development principles that enables them to work with external development partners and key stakeholders, following best practices. This person will join an existing team, working to support a global enterprise application delivering quality solutions. You will help define platform governance, architecture, and will drive innovation in the field of analytics, business intelligence, & self-service.
Key Accountabilities
Defines policy & standards – Architecture principles, Integration standards, Release management, Platform upgrade strategy, performance tuning etc.

Help with critical technical architecture documentation for existing implementations, build framework structure/templates for capturing technical information on future implementations, project work

Enforce architecture governance structures, methodologies (architecture and engineering), and compliance activities to maintain regulatory compliance and enterprise standards

Define development best practices, architecture, & code/model review check list

Provide technical leadership and mentoring, perform peer code reviews, and ensure the ServiceNow team follows software development best-practices

Create/maintain API & data integration processes between ServiceNow and other services

Work with Enterprise Service Bus (ESB) and Integration Platform as a Service (iPaaS) technologies in conjunction with ServiceNow

Monitor health, usage, and overall compliance of the application and oversee major version upgrades and installing patches

Collaborate with ServiceNow Support concerning strategies and technical aspects of platform upgrades

Utilize plug-ins for integrations and app development from ServiceNow application store and communities

Support CMDB/Asset management initiatives, hands on experience with various data discovery sources like ITOM or SCCM

Understand & capture business requirements, streamlining complex business / IT processes, and help manage / deploy ServiceNow capabilities / features in an agile manner

Drive the creation of relevant and meaningful solution architectures, re-usable workflows, and other deliverables that enables the overall business thus driving better performance

Validate all new change requests & demands on the platform

Set standards for Mid server deployment and usage

Security audits and remediation as well as platform performance audits and remediation
Supervisory/Interpersonal- Experience Required
•Ability to lead technology on large projects spanning multiple teams
• Leads hiring initiatives, assembling new questions, coordinating on changes to hiring practices and process
• Acts as a conduit for technical knowledge throughout the org, bringing company-wide tech info into their org
• Leads the vision for what we communicate with our documentation
• Active participant in org-wide meetings and leading when the topic is the team's work
• Presents to others on technical topics of interest, fostering growth in knowledge at NG
Qualifications
Bachelor's Degree in Computer Science or equivalent

7+ years of hands on development experience on ServiceNow platform overall

4+ years of hands on development & configuration on the ServiceNow Service Portal

Should have worked on at least 2 end to end implementation of CSM, ITSM, or HRSM module of ServiceNow

Preferred Experience within ServiceNow ITOM, APM, or CSM

Strong expertise in industry standard Enterprise and Solution Architecture Frameworks and Governance

Excellent knowledge and experience developing in JavaScript

Strong analytical skills capable of assessing complex business requirements from real world scenarios and the ability to translate them into actionable target architectures, readily understood models and architectural plans

Ability to identify, prioritize, & weigh different options, while balancing business, cost, and technology priorities to determine a best solution

Contributing to and driving global technology standard proposals and filing exceptions as required

Excellent knowledge of infrastructure technologies, architectures, standards & processes, and a good understanding of infrastructure engineering processes

Good relationship building, facilitation & influencing skills, and experience of leveraging these on both ITS and business leadership contexts

Flexibility to adjust to multiple demands, shifting priorities, ambiguity, and rapid change

Agile / Scrum development process

Past experience on Programming skills like Java Script, Core Java & Web Services, Jelly Scripting
Salary
$133,000 - $180,000 a year
This position has a career path which provides for advancement opportunities within and across bands as you develop and evolve in the position; gaining experience, expertise and acquiring and applying technical skills. Candidates will be assessed and provided offers against the minimum qualifications of this role and their individual experience.
National Grid is an equal opportunity employer that values a broad diversity of talent, knowledge, experience and expertise.  We foster a culture of inclusion that drives employee engagement to deliver superior performance to the communities we serve.  National Grid is proud to be an affirmative action employer. We encourage minorities, women, individuals with disabilities and protected veterans to join the National Grid team.  
Success Profile
What makes you a successful Information Technology team player at National Grid? Check out the top traits we're looking for and see if you have the right mix.
Strategic
Inventive
Collaborative
Proactive
Results-driven
Leadership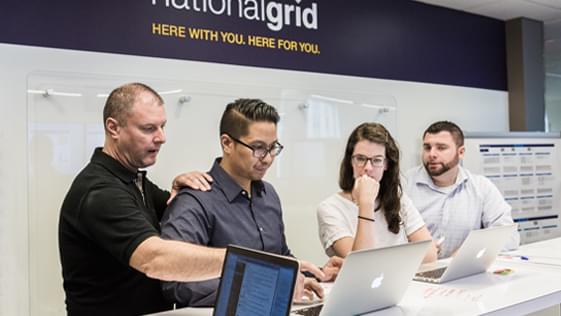 Our culture
A culture of inclusivity where the best ideas can come from anywhere.
A belief that we do our best work when we all work together.
An understanding that to engineer the future, you have to think out of the box.
Rewards
Healthcare

401(k)

Continuing education

Paid time off

Employee assistance (EAP)

Health & wellness
You may also be interested in