Senior Software Engineer - API
Waltham, Massachusetts; Brooklyn, New York; Hicksville, New York
Overview
Our IT ambition is to be recognized for 'Transforming National Grid into the leader of the digital energy future'. Market innovation will drive the digital utility. We plan to enhance our IT offerings, mature the way we interact with our business partners, and transform the culture of our teams. Culturally, we will be placing a stronger emphasis on designing systems around the end user. We are establishing an operating model based on accountability and empowering our workforce to share ideas and drive continuous improvement. There will be clear career options within the company, both management and technical. We are focusing on enhancing and investing in both leadership capability and developing necessary technical expertise.
Job Description
Senior Software Engineer - API
Organization Information Technology
Department 2742-SD Common Serv
As part of National Grid's continued commitment to safety, all new hires must be fully vaccinated against COVID-19. Anyone unable to be vaccinated, either because of a sincerely held religious belief or medical reason can request a reasonable accommodation.
About us
National Grid's IT team is currently seeking an innovative, technically talented Senior Software Engineer who can influence the architecture and design solutions for major initiatives within our IT Solutions Digital Platforms team.
Every day we deliver safe and secure energy to homes, communities, and businesses. We are there when people need us the most. We connect people to the energy they need for the lives they live. The pace of change in society and our industry is accelerating and our expertise and track record puts us in an unparalleled position to shape the sustainable future of our industry.
To be successful we must anticipate the needs of our customers, reducing the cost of energy delivery today and pioneering the flexible energy systems of tomorrow. This requires us to deliver on our promises and always look for new opportunities to grow, both ourselves and our business.
IT and Digital works in a harmonized partnership with the National Grid group of diverse energy businesses to deliver technology which revolutionizes the way we operate. As we lead the charge towards a carbon-free future, our teams are embracing disruptive changes in our industry by working with Agile methodologies and adopting Digital mindsets to drive efficiency and bring new capabilities for our internal and external customers.
Our work here is critical. National Grid moves energy to millions of homes and businesses in the UK and US and the technology we utilise to complete that task is down to us. The successful applicant for this position will be an integral contributor towards this goal and we will support your professional development as part of our multi-cultural, customer-centric global team.
Job Purpose
We are looking for a passionate Software Engineer to design, develop and deploy large scale software solutions. Software Engineer responsibilities include gathering user requirements, defining system functionality, writing APIs  in various languages, like  Java Springboot, NodeJS  or .NET programming languages and interfacing with cloud environments such as Azure or AWS. Our ideal candidates are familiar with the software development life cycle (SDLC) from preliminary system analysis to tests and deployment.
Ultimately, the role of the Software Engineer is to build high-quality, innovative and fully performing software that complies with coding standards and technical design.
Key Accountabilities
Provide hands-on development of APIs on Cloud Platform

Address Logging, Monitoring, Authentication and Security requirements for APIs

Facilitate/ build-out DevOps CI/CD model for API and middleware applications

Partners with the Enterprise Architecture team on the creation of the conceptual architecture that addresses the high-level business requirements.  Develops Solution Architecture for applicable programs/projects that address key business needs

Participate in defining the operating model including platform support, code reviews, production deployments, and implementing the security and infrastructure standards

Participate in all phases of software development life cycle including development of technical requirements, prototyping, coding, testing, deployment and support 

Provide programming and technical expertise to ensure business solutions are met

Interpret requirements to develop APIs and integrations using Agile methodology

Implement APIs as per the design specification and National Grid architecture standards

Build, orchestrate, and deploy complex integration patterns between system, process, and experience layers of API

Ensure that all code, configurations and other work products are thoroughly unit-tested prior to delivery

Perform code reviews and other quality checks as requested

Participate in system/integration testing as appropriate
Supervisory/Interpersonal- Experience Required
Able to clearly communicate technical concepts to both technical and non-technical audiences
Demonstrated ability to interface effectively and collaborate with third party suppliers/vendors
Qualifications
Bachelor's degree in computer science or related field is a MUST

3+ yrs software development exp. in API development in Cloud Platform

Experience with architecting and enabling capabilities utilizing the following technologies: Linux OS, Enterprise Application Integration Design Patterns, Application Servers, Java, JDK, XML, JMS, MQ, SOA and Maven, DevOps CI / CD Pipelines for build and deployments

Strong hands-on experience with following technologies:

Microsoft Azure PaaS and SaaS solution development technologies including Azure Functions

Microsoft Azure App Service Fabric, App Service Environment, Microsoft Azure API Management platform technologies

JSON, REST and data-based APIs and high scale performant service facades

Microsoft Azure Identity Management and Security technologies including custom SAML 2.0 providers

Azure Service Bus and Azure Event Hub/Azure Event Grid

Azure Artificial Intelligence and Machine Learning platforms – Microsoft Azure Machine Learning, Azure Cognitive Services

Microsoft Azure Operational and Monitoring tools

Developing APIs using Node js, Express js, Springboot (Mule RTF, Cloudbub is a plus)

API & WebService testing tools: SOAP UI, Postman, Advanced REST Client

Integration product architecture experience with vendor products including IBM, BEA, Oracle, Tibco etc.

Technology design experience including Performance, Security, Availability, as well as Operations, Monitoring and Support

Knowledge and Familiarity with SQL, CosmosDB, Cassandra, Mongo DB, NoSQL, Managed File Transfers

Experience with a range of application styles and technologies to help guide and steer decisions using Agile methodologies

Experience with Continuous Integration and Deployment via Azure DevOps Services
This position has a career path which provides for advancement opportunities within and across bands as you develop and evolve in the position; gaining experience, expertise and acquiring and applying technical skills. Candidates will be assessed and provided offers against the minimum qualifications of this role and their individual experience.
National Grid is an equal opportunity employer that values a broad diversity of talent, knowledge, experience and expertise.  We foster a culture of inclusion that drives employee engagement to deliver superior performance to the communities we serve.  National Grid is proud to be an affirmative action employer. We encourage minorities, women, individuals with disabilities and protected veterans to join the National Grid team.  
Success Profile
What makes you a successful Information Technology team player at National Grid? Check out the top traits we're looking for and see if you have the right mix.
Strategic
Inventive
Collaborative
Proactive
Results-driven
Leadership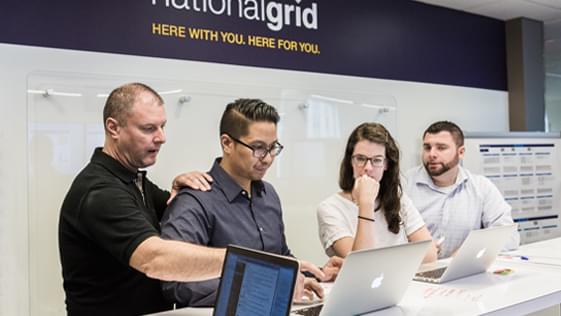 Our culture
A culture of inclusivity where the best ideas can come from anywhere.
A belief that we do our best work when we all work together.
An understanding that to engineer the future, you have to think out of the box.
Rewards
Healthcare

401(k)

Continuing education

Paid time off

Employee assistance (EAP)

Health & wellness
You may also be interested in