SAP FICO Functional Analyst
Waltham, Massachusetts
Overview
Our IT ambition is to be recognized for 'Transforming National Grid into the leader of the digital energy future'. Market innovation will drive the digital utility. We plan to enhance our IT offerings, mature the way we interact with our business partners, and transform the culture of our teams. Culturally, we will be placing a stronger emphasis on designing systems around the end user. We are establishing an operating model based on accountability and empowering our workforce to share ideas and drive continuous improvement. There will be clear career options within the company, both management and technical. We are focusing on enhancing and investing in both leadership capability and developing necessary technical expertise.
Job Description
SAP FICO Functional Analyst
Organization Information Technology
Department SAP Back Office US
As part of National Grid's continued commitment to safety, all new hires must be fully vaccinated against COVID-19. Anyone unable to be vaccinated, either because of a sincerely held religious belief or medical reason can request a reasonable accommodation.
About us
National Grid is seeking an innovative, adaptable, and results-oriented SAP FICO Functional Analyst to join our IT Team.
Every day we deliver safe and secure energy to homes, communities, and businesses. We are there when people need us the most. We connect people to the energy they need for the lives they live. The pace of change in society and our industry is accelerating and our expertise and track record puts us in an unparalleled position to shape the sustainable future of our industry.
To be successful we must anticipate the needs of our customers, reducing the cost of energy delivery today and pioneering the flexible energy systems of tomorrow. This requires us to deliver on our promises and always look for new opportunities to grow, both ourselves and our business.
Job Purpose
This role requires the individual to be knowledgeable in the Source-to-Pay SAP components with experience to guide the business in the use of SAP systems and processes related to the strategic goals of the business. A firm understanding of the SAP Accounts Payable, Travel and Expense (Concur), Banking, In-House Cash, Procurement (SRM/ARIBA) and Accounting (FI/CO) business processes are required.
The functional analyst will be required to partner with Project Managers, Business Stakeholders, and IT interfacing groups lead. The role would involves eliciting, analyzing, validating, and managing of requirements, business processes and high-level solution designs, highlight integration and support the program from all parties.  This position will involve working across all lines of business and will require solid communication skills, the ability to build relationships and drive a consistent agenda.
The individual must be able to independently drive issue resolution, develop business relationships, and apply best practice business processes and technical alternatives while operating in a rapidly changing business environment.  It is imperative for this resource to drive consistency in the implementation of systems and best practices and understand Agile methodologies.  The ability to work in a fast-paced team atmosphere effectively is critical. 
Key Accountabilities
• Analyze, design, build, test, deploy, maintain, and enhance Accounts Payable, Travel and Expense and S2P Vendor Master Data, In-House Cash and Banking related functional solutions leveraging to other system integrations where necessary
• Partner with the business in assessing and defining requirements and lead/execute the development of business cases and system solutions. Develop system features as per business requirements and create, review, and approve documentation, including functional and technical specifications, test planning and execution results
• Collaborate with functional and IT technical teams and Business SMEs to realize solutions for cross-functional areas (either integration with other SAP modules or external systems)
•  Support IT lead in communicating and obtaining buy-in from internal and external stakeholders for SAP AP, T&E, IHC, S2P Vendor Master Data, IHC  or Banking design (covering people, process, and technology)
• Lead, manage and participate in day-to-day operations, enhancements, and projects. This includes understanding business impact, quantifying resources, and evaluating/recommending technical options. Partner with third party providers to accomplish delivery of day-to-day operations, enhancements, and projects
• Functional knowledge in the SAP-FICO module, SAP Cloud applications associated with S2P (e.g. Concur, Ariba, Success Factors, Fiori)
• Work with the Product Owner, cross functional teams, and cross technology team on defining the detailed scope, the prioritization of the product backlog of user stories, defining acceptance criteria sufficiently for testing and to confirm the delivered solution is in fulfillment of the stated requirements
• Responsible for creating, refining, and maintaining user stories and associated deliverables such as process flows and test cases to meet development and stakeholder needs
• Execute test scripts in SAP and integrating systems, updating the results in the current IT Testing products and supporting the business through the testing cycles. Drive defect identification and resolution through the test cycles
• Provide Key User training to the business leads and support them through the End user training
• Provides support for SAP systems (e.g. ECC, Ariba, Concur, etc.) upgrades and testing and for external system upgrades that interface with SAP Accounts Payable, Concur, Ariba, etc.
Supervisory/Interpersonal- Experience Required
Demonstrate valued business partner capabilities and behaviors in all interactions with colleagues, vendors and business stakeholders
Self-directed and motivated
Possession of excellent interpersonal, team, and relationship-building skills
Qualifications
Requires BS degree in Computer Science, Finance, or related area of study

5+ yrs exp. as an SAP FICO Analyst supporting Accounts Payable, In-House Cash and Travel and Expense

5+ yrs exp. with the SAP Supply Change Management module

Minimum of 2 to 3 end-to-end SAP implementations with Accounts Payable, Concur, In-House Cash

Minimum 2 yrs exp. with implementing and supporting the IRS 1099-MISC and 1099-NEC process for Accounts Payable, including knowing the IRS requirements and identifying new IRS requirements and implementing them

Minimum 2 yrs exp. of the NACHA ACH bank file formats

Strong knowledge of the AP payment process that utilizes the SAP In-House Cash component

SAP FICO - Configuration experience is a must, especially in AP, Banking, In-House Cash

5 + years of testing experience in AP, Concur, IHC, Vendor Master, Procurement, including  creating test scenarios, scripts, executing and/or reviewing test results for projects, enhancements, and defect fixes

5+ years of experience performing requirement gathering sessions/workshops, design, document functional specifications and reviewed technical specification

2 years or more experience with Agile software delivery models (Kanban, Scrum, etc.)

Highly developed negotiation, facilitation and consensus building skills, oral and written communication skills; strong presentation skills
Additional Skills / Preferred Qualifications:
Experience working in a regulated industry (i.e. Electric / Gas Utilities) and delivering within that environment preferred

S4 HANA experience or certification, SAP FICO certification

2 years or more experience using the JIRA, XRAY, NeoLoad and Tosca
Please be advised that due to the nature of this position, incumbents are subject to federal Drug & Alcohol safety regulations governing US Department of Transportation ("DOT") covered positions, including the Federal Motor Carrier Safety Administration (FMCSA) and Pipeline Hazardous Material Safety Administration (PHMSA). As such, the Company's testing programs and policies regarding the use of federally prohibited drugs or alcohol, for recreational or medical purposes, will remain in effect for these safety-sensitive, DOT covered positions.
National Grid is an equal opportunity employer that values a broad diversity of talent, knowledge, experience and expertise.  We foster a culture of inclusion that drives employee engagement to deliver superior performance to the communities we serve.  National Grid is proud to be an affirmative action employer. We encourage minorities, women, individuals with disabilities and protected veterans to join the National Grid team.
Success Profile
What makes you a successful Information Technology team player at National Grid? Check out the top traits we're looking for and see if you have the right mix.
Strategic
Inventive
Collaborative
Proactive
Results-driven
Leadership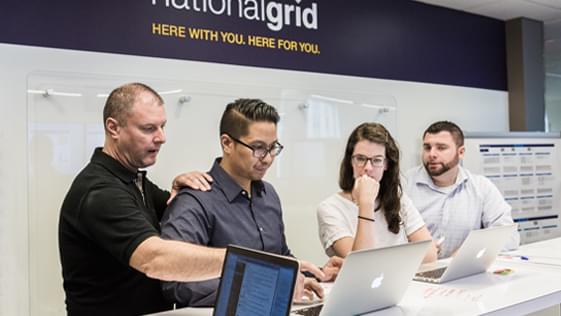 Our culture
A culture of inclusivity where the best ideas can come from anywhere.
A belief that we do our best work when we all work together.
An understanding that to engineer the future, you have to think out of the box.
Rewards
Healthcare

401(k)

Continuing education

Paid time off

Employee assistance (EAP)

Health & wellness
You may also be interested in