SAP Developer
Waltham, Massachusetts
Overview
Our IT ambition is to be recognized for 'Transforming National Grid into the leader of the digital energy future'. Market innovation will drive the digital utility. We plan to enhance our IT offerings, mature the way we interact with our business partners, and transform the culture of our teams. Culturally, we will be placing a stronger emphasis on designing systems around the end user. We are establishing an operating model based on accountability and empowering our workforce to share ideas and drive continuous improvement. There will be clear career options within the company, both management and technical. We are focusing on enhancing and investing in both leadership capability and developing necessary technical expertise.
Job Description
SAP Developer
Organization Information Technology
Department SAP Back Office US
About us
National Grid is hiring an SAP Developer for our IT Global Functions team in Waltham, MA.
Every day we deliver safe and secure energy to homes, communities, and businesses. We are there when people need us the most. We connect people to the energy they need for the lives they live. The pace of change in society and our industry is accelerating and our expertise and track record puts us in an unparalleled position to shape the sustainable future of our industry.
To be successful we must anticipate the needs of our customers, reducing the cost of energy delivery today and pioneering the flexible energy systems of tomorrow. This requires us to deliver on our promises and always look for new opportunities to grow, both ourselves and our business.
Job Purpose
The National Grid IT team is currently seeking an innovative, adaptable, and results-oriented SAP Developer to join the IT Global Functions Engineering team. As an experienced developer, you will work with contractors, on and offshore developers, functional analysts, solution architects, and the Development Lead to develop and implement high quality SAP integration solutions using standard Waterfall and Agile/Lean software development methodologies. SAP Integrations include ECC with non-ECC systems, Enterprise Portal, Salesforce, Ariba, and web integrations with Fiori. Your role would also perform project quality management tasks such as peer reviews on technical specifications and code reviews. This role will report to the Development Lead within the National Grid IT organization.
Key Accountabilities
Collaborate with SAP functional analysts and Operations business analysts to provide programming support and direction in designing and developing innovative solutions for complex business scenarios with RICEFW (Reports, Interfaces, Conversions, Enhancements, Forms, Workflow) objects

Work with various technology teams in different locations in the US and offshore

Convert business requirements and formalize specifications into Technical Design Documents for custom development

Design and implement technical solutions for integrations, interfaces, enhancements, and conversions with SAP and beyond, including web services and mobile applications

Develop custom integration solutions using SAP integration technologies like PI/XI, ALE/IDocs, and XML

Develop custom web solutions using SAP web development technologies like FIORI, WebDynpro, UI5, HTML5, and Netweaver web service. Develop custom solutions using customized transactions and the enhancement framework including user exits, BADIs, and BAPIs to provide additional functionality not available within standard SAP

Participate in project quality management tasks, such as peer and quality reviews on design documents, technical specifications, and code reviews

Document and perform unit, string, integration, and regression testing in support of new implementations and releases

Provide production support for SAP sub-processes/sub-modules supporting corporate clients, including routine systems operation support; diagnose and fix system problems; monitor and maintain processes and web services; maintain production and test environments

Keep manager or team lead informed of significant cross-team, cross-functional issues and/or significant technical challenges as appropriate

Proactively work to solve these issues while including the key functional and/or business stakeholders
Supervisory/Interpersonal- Experience Required
Qualifications
• Bachelor's degree in computer science/engineering or in related field
• Experience and basic knowledge of some of the ABAP development skills primarily user exits, BADIs, BAPIs, RFCs, class objects, business objects, and other SAP development tools and SAP ECC modules (primarily Financials, Human Resources, Supply Chain, Warehouse Management, Materials Management)
• Basic knowledge of the SAP cloud-based systems like SuccessFactors and Ariba 
• Experience with requirements gathering, data mapping, data cleansing, and performing data source gap analysis
• Hands-on implementation experience in SAP and the cross-function relationship between modules for forms, reports, interfaces, enhancements
• Experience in software development life cycle; experience in project life cycle activities on development and maintenance projects
• Basic knowledge of Agile software delivery models (SAFe, Kanban, Scrum)
• Ability to operate in a fluid environment with competing priorities while managing project delivery and operational tasks efficiently
• Ability and aptitude to stay current in emerging technologies, trends, and best practices and add value to the organization by identifying growth/improvement opportunities
• Experience and working knowledge of SAP integration technologies preferred (PI/PO, CPI, ALE/IDocs, BAPIs, XML, OData, flat-file interfaces)
• Experience and basic knowledge in web development skills like FIORI, WebDynpro, UI5, HTML5, Netweaver web services preferred
• Experience and basic knowledge in other web development/mobile application skills especially in Java, JavaScript, Xcode, REST services preferred
• Hands-on experience with object-oriented programming concepts preferred
National Grid is an equal opportunity employer that values a broad diversity of talent, knowledge, experience and expertise. We foster a culture of inclusion that drives employee engagement to deliver superior performance to the communities we serve. National Grid is proud to be an affirmative action employer. We encourage minorities, women, individuals with disabilities and protected veterans to join the National Grid team.
Success Profile
What makes you a successful Information Technology team player at National Grid? Check out the top traits we're looking for and see if you have the right mix.
Strategic
Inventive
Collaborative
Proactive
Results-driven
Leadership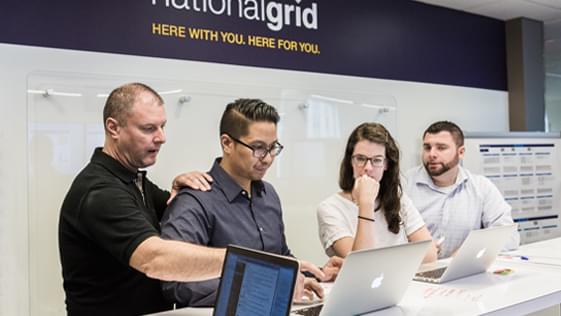 Our culture
A culture of inclusivity where the best ideas can come from anywhere.
A belief that we do our best work when we all work together.
An understanding that to engineer the future, you have to think out of the box.
Rewards
Healthcare

401(k)

Continuing education

Paid time off

Employee assistance (EAP)

Health & wellness
You may also be interested in