Principal Architect - Digital Workplace Services Content Collaboration
Waltham, Massachusetts
Overview
Our IT ambition is to be recognized for 'Transforming National Grid into the leader of the digital energy future'. Market innovation will drive the digital utility. We plan to enhance our IT offerings, mature the way we interact with our business partners, and transform the culture of our teams. Culturally, we will be placing a stronger emphasis on designing systems around the end user. We are establishing an operating model based on accountability and empowering our workforce to share ideas and drive continuous improvement. There will be clear career options within the company, both management and technical. We are focusing on enhancing and investing in both leadership capability and developing necessary technical expertise.
Job Description
Principal Architect - Digital Workplace Services Content Collaboration
Organization Information Technology
Department IT Global Enterprise Architecture
About us
Every day we deliver safe and secure energy to homes, communities, and businesses. We are there when people need us the most. We connect people to the energy they need for the lives they live. The pace of change in society and our industry is accelerating and our expertise and track record puts us in an unparalleled position to shape the sustainable future of our industry.

To be successful we must anticipate the needs of our customers, reducing the cost of energy delivery today and pioneering the flexible energy systems of tomorrow. This requires us to deliver on our promises and always look for new opportunities to grow, both ourselves and our business

Job Purpose
Organizations that want to keep pace with a changing world of workplace technology and attract and keep talented employees need to create a digital workplace where team members can work seamlessly anytime, from anywhere. National Grid is experiencing significant transformation to create this digital workspace that will meet the growing needs of our business end users. The Principal Architect – Digital Workplace Services will play a crucial role to help fulfil this mandate. This is a new and highly visible function within the Digital Workplace Services (DWS) team and will play a major role in shaping the way our employees interact with each other, our customers and our data.
The primary role entails aligning business needs to technology solutions to deliver a friction-free, efficient, and enjoyable technology experience for our 25,000 end user customers. This is a key role in establishing strategic direction of the DWS Product Portfolio in support of product manager/owner teams, focused to business needs, enterprise architecture and security architecture standards. The Principal Architect will work as the architect on an DWS product team, interfacing to Infrastructure & Operations architectural and DWS product leadership, technology services, and business representatives. They ensure DWS product solution architectures are built to enterprise architecture standards, create and maintain product roadmaps aligned to business technology strategies and outcomes. They create product architecture and technical planning artifacts such as options analyses and solution approach/design and are key contributors to service design such as product/service RACI, engineering and operations process and initiative financial/resource estimation.

Key Accountabilities
•    Thoroughly understand Grid business needs and translate those needs to high and low level architectural designs and approaches through artifacts such as roadmaps, market analyses, solution approach, user context/user journey diagrams, and business benefit descriptions. 
•    Own the product roadmap for their assigned product tower: Device and Data Access, Real Time Collaboration, Content Collaboration, or Application Lifecycle.
•    Participate in early project or product ideation, consulting, and estimating. 
•    Provide expertise in the development of end-to-end product and service delivery design from initiation to support, continual service improvement, establishing key measures of success, and optimizing delivery via digital methods of provisioning, operations, and support. 
•    Be a champion of the MVP concept, distilling the product down to what is desirable, viable and feasible.
•    Technical liaison into other DWS product towers and other I&O delivery towers such as directory services, network, cloud.
•    Participate in the development of business cases and definition of product cost structures.
•    Create new reference architectural patterns and standards for their product tower aligned to enterprise architecture or security architecture frameworks.  
Knowledge, Experience and Technical Know How
•    Breadth and depth of knowledge in their assigned DWS product tower: Content Collaboration (document management, web collaboration, messaging, workflow automation, power platform, conditional access, productivity software); data and access security best practices; personas and service design.
•    A bachelor's degree from an accredited educational institution or demonstrated equivalent ability in written/verbal communication, technical document creation (Visio, PowerPoint) and critical thinking. 
•    4+ years experience within the Digital Workplace technology scope and market designing modern digital capabilities, for example: M365 tenant configuration and design, content management strategies, operations automation, machine learning, tenant access strategies.
•    4+ years experience at a senior engineering level and knowledge of architectural principles, best practices, and frameworks such as Togaf, ITIL, CMM, NIST, SaFe
•    Experience in digital delivery and operations tools and methods, scripting, automation, devops and persona principles. 
•    Experience in other service delivery functions and domains such as engineering, operations, support in networking, data center, distributed compute, cloud, etc, is helpful.
•    A demonstrated and focused desire to build powerful, simple, well-designed products and services that employees will love to use
•    An ability to think strategically and creatively, with the capacity for self-motivation, independent initiative and creative problem-solving.
•    Superior interpersonal and communication skills, writing clear and concise proposals, diagrams and presentations appropriate for executive staff or engineering.
•    The ability to discern priority, manage time and schedules for self and staff to meet aggressive deadlines and influence through persuasive written and verbal communication
•    A diligent attention to detail and strong technical intuition, as well as the ability to set and manage expectations at the executive level.
More Information
We encourage candidates to submit their applications as early as possible and not to wait until the published closing date. National Grid's recruitment periods can and may vary. We reserve the right to remove this advert or close it to further applications at any point during the recruitment process.
Grade: Band D1
Global IT /Permanent
For further information please contact nicholas.house@nationalgrid.com

Salary
$139,000 - $197,000 a year 
Please be advised that due to the nature of this position, incumbents are subject to federal Drug & Alcohol safety regulations governing US Department of Transportation ("DOT") covered positions, including the Federal Motor Carrier Safety Administration (FMCSA) and Pipeline Hazardous Material Safety Administration (PHMSA). As such, the Company's testing programs and policies regarding the use of federally prohibited drugs or alcohol, for recreational or medical purposes, will remain in effect for these safety-sensitive, DOT covered positions.
This position has a career path which provides for advancement opportunities within and across bands as you develop and evolve in the position; gaining experience, expertise and acquiring and applying technical skills. Candidates will be assessed and provided offers against the minimum qualifications of this role and their individual experience.
National Grid is an equal opportunity employer that values a broad diversity of talent, knowledge, experience and expertise.  We foster a culture of inclusion that drives employee engagement to deliver superior performance to the communities we serve.  National Grid is proud to be an affirmative action employer. We encourage minorities, women, individuals with disabilities and protected veterans to join the National Grid team. 

Success Profile
What makes you a successful Information Technology team player at National Grid? Check out the top traits we're looking for and see if you have the right mix.
Strategic
Inventive
Collaborative
Proactive
Results-driven
Leadership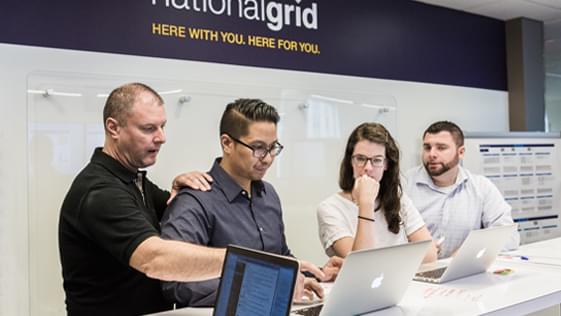 Our culture
A culture of inclusivity where the best ideas can come from anywhere.
A belief that we do our best work when we all work together.
An understanding that to engineer the future, you have to think out of the box.
Rewards
Healthcare

401(k)

Continuing education

Paid time off

Employee assistance (EAP)

Health & wellness
You may also be interested in