Principal Architect, Domain
Waltham, Massachusetts; Minneapolis-St. Paul-Bloomington, Minnesota; Brooklyn, New York; Washington, District of Columbia; Hicksville, New York; Syracuse, New York; Melville, New York; Portland, Oregon
Overview
Our IT ambition is to be recognized for 'Transforming National Grid into the leader of the digital energy future'. Market innovation will drive the digital utility. We plan to enhance our IT offerings, mature the way we interact with our business partners, and transform the culture of our teams. Culturally, we will be placing a stronger emphasis on designing systems around the end user. We are establishing an operating model based on accountability and empowering our workforce to share ideas and drive continuous improvement. There will be clear career options within the company, both management and technical. We are focusing on enhancing and investing in both leadership capability and developing necessary technical expertise.
Job Description
Principal Architect, Domain
Organization Information Technology
Department IT Business Domain Architecture
As part of National Grid's continued commitment to safety, all new hires must be fully vaccinated against COVID-19. Anyone unable to be vaccinated, either because of a sincerely held religious belief or medical reason can request a reasonable accommodation.
About us
National Grid is hiring a Principal Domain Architect - DSO for our IT/Digital group in Waltham, MA.  This role can also be based in NY, NJ, RI, CT, NH, MN, TX and Washington, D.C.
Every day we deliver safe and secure energy to homes, communities, and businesses. We are there when people need us the most. We connect people to the energy they need for the lives they live. The pace of change in society and our industry is accelerating and our expertise and track record puts us in an unparalleled position to shape the sustainable future of our industry.
To be successful we must anticipate the needs of our customers, reducing the cost of energy delivery today and pioneering the flexible energy systems of tomorrow. This requires us to deliver on our promises and always look for new opportunities to grow, both ourselves and our business.
Job Purpose
This position is seeking candidates who have 8+ years of IT/Software Development experience and 3+ years of experience in IT/Software architecture. As a member of the Electric Domain Architecture team, this Domain Architect will be providing technical guidance and expertise to the Programs and Products supporting National Grid Distribution System Operator Strategy.
Key Accountabilities
Work with Key Business Stakeholders to understand Business Strategy and Plan, supporting Business Architecture, and required capabilities for enabling business needs.  Maintain current and future state business capability and application models
 Develop understanding of the applications supporting the Distributed Energy Resources domain and assess how solutions align within the broader enterprise architecture
Establish value streams in scope for the programs and products supporting the DSO Infrastructure, and for each value stream create current state view of value stream, capabilities, master data, personas, applications, and key data flows.  Create iterations of this same view for key transition states with dependencies within and outside of the programs and products, setting the vision as enabler
 Provide guidance to extended project team related to the solution architecture and technical design.  Assist and advise product teams in the configuration, testing, implementation, and support of technical solutions
Work with Enterprise Architects to align domain-specific solutions with EA standards and processes; understand surrounding solutions and enterprise information flow
 Develop an understanding of the end-to-end business application processes and provides input into application roadmaps
Key Deliverables
Current State and Target State Architectural Definitions in alignment to program and product scope:  value streams, business capabilities, master data, personas, applications, and key data flows
 Iterations of the Architectural Definition showing transitions states of each value stream over the course of the program and product lifecycle:  value streams, business capabilities, master data, personas, applications, and key data flows
Supervisory/Interpersonal- Experience Required
Excellent interpersonal, written skills and the ability to work effectively with all levels of IT, vendor and business management
Ability to understand the big picture and the short-term perspectives of specific situations
Strong problem-solving and analytic skills
Demonstrated ability to effectively work both independently and within cross functional project teams
Ability to influence others to achieve results
Qualifications
Bachelor's degree in Computer Science, Information Systems, or related discipline 
Experience in documenting and defining value streams, business capabilities, master data, personas, applications, and key data flows
Deep experience in technology related to DSO:

Telecommunication including LAN, WAN, Wirelesss, SD-WAN, NSF
Security related to the Utility Industry including highest security zones for control systems
Utility control systems such as ADMS, OMS, DERMS
Cloud technology

Utility-related Intelligent Edge Devices (IED) and corresponding OT protocols such as 2030.5, DNP3, openFMB, openADR
Experience in developing architecture patterns with both custom and COTS applications
Understanding of key operations and data flows within an Electric Utility
Strong technical skills around vendor product selection, software and technology analysis, business analytics, interfaces such as REST, and modern software technologies such as Containers and Microservices
Experience with one or more of the TOGAF (or equivalent framework) architectural domains in business, application, data, technology; have used architecture tools such as Troux, Alfabet, Sparx or equivalent
Experience in architectural support of Agile delivery framework and digital product lifecycle
Salary
$138,000 - $194,000 a year
This position has a career path which provides for advancement opportunities within and across bands as you develop and evolve in the position; gaining experience, expertise and acquiring and applying technical skills. Candidates will be assessed and provided offers against the minimum qualifications of this role and their individual experience.
National Grid is an equal opportunity employer that values a broad diversity of talent, knowledge, experience and expertise.  We foster a culture of inclusion that drives employee engagement to deliver superior performance to the communities we serve.  National Grid is proud to be an affirmative action employer. We encourage minorities, women, individuals with disabilities and protected veterans to join the National Grid team.  
Success Profile
What makes you a successful Information Technology team player at National Grid? Check out the top traits we're looking for and see if you have the right mix.
Strategic
Inventive
Collaborative
Proactive
Results-driven
Leadership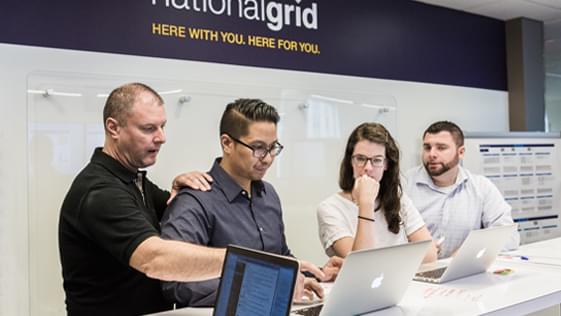 Our culture
A culture of inclusivity where the best ideas can come from anywhere.
A belief that we do our best work when we all work together.
An understanding that to engineer the future, you have to think out of the box.
Rewards
Healthcare

401(k)

Continuing education

Paid time off

Employee assistance (EAP)

Health & wellness
You may also be interested in