PowerPlan Product Manager
Waltham, Massachusetts
Overview
Our IT ambition is to be recognized for 'Transforming National Grid into the leader of the digital energy future'. Market innovation will drive the digital utility. We plan to enhance our IT offerings, mature the way we interact with our business partners, and transform the culture of our teams. Culturally, we will be placing a stronger emphasis on designing systems around the end user. We are establishing an operating model based on accountability and empowering our workforce to share ideas and drive continuous improvement. There will be clear career options within the company, both management and technical. We are focusing on enhancing and investing in both leadership capability and developing necessary technical expertise.
Job Description
PowerPlan Product Manager
Organization Information Technology
Department SAP Back Office US
About us
National Grid is hiring a PowerPlan Product Manager for our IT Group Functions team in Waltham, MA.

Every day we deliver safe and secure energy to homes, communities, and businesses. We are there when people need us the most. We connect people to the energy they need for the lives they live. The pace of change in society and our industry is accelerating and our expertise and track record puts us in an unparalleled position to shape the sustainable future of our industry.

To be successful we must anticipate the needs of our customers, reducing the cost of energy delivery today and pioneering the flexible energy systems of tomorrow. This requires us to deliver on our promises and always look for new opportunities to grow, both ourselves and our business.
Job Purpose
At National Grid, our application Product Managers serve a vital role in ensuring that our systems can fully support our business processes, remain up to date, resilient and secure, and provide our users with the best experience possible.  We are looking for a PowerPlan Product Manager who will be responsible for owning the full work order lifecycle as it is executed within PowerPlan and our front office systems.  The Product Manager works closely with our plant accounting and finance teams to understand their requirements, pain points and opportunities and manages the application roadmap to address those needs.  The PowerPlan Product Manager is responsible for prioritizing projects and change requests within the application according to the long-term roadmap.  In addition, this person will own the vendor relationship with PowerPlan and our other delivery partners.  Finally, the PowerPlan Product Manager will lead and grow our Front Office team, ensuring that we continue to have a dedicated and knowledgeable team ready to deliver new functionality and support our current business needs.
Key Accountabilities
Work with the plant accounting, property, tax and finance organizations to understand their priorities, opportunities and challenges that can be addressed by PowerPlan and our other front office systems

Understand and manage current "business as usual" operations such as the end-to-end work order lifecycle process

Own the IT relationship with our business colleagues in finance and plant accounting

Define the PowerPlan product strategy and roadmap as well as critical release periods for new projects

Manage internal budgets related to PowerPlan projects, licenses and long-term support

Work with delivery teams to define requirements, success criteria, milestones etc. for projects that appear on the roadmap

Own the vendor relationship with PowerPlan and our other delivery partners to ensure we get the right response to questions, escalations, and future functionality.  Manage PowerPlan support contracts and statements of work for projects and programs

Solicit feedback from customers, delivery resources, and any other stakeholders to provide input for lessons learned

Support project reporting activities
Supervisory/Interpersonal- Experience Required
Demonstrated ability to communicate and work effectively with internal and external customers at all organizational levels
Demonstrated customer focus, attitude and excellent interpersonal, verbal and written communication skills
A collaborative style that emphasizes teamwork, values the contributions of each team member, and encourages participation in achieving results for the organization and its customers
Qualifications
Experience with Powerplan Project / Work Order and Assets modules

Experience with Powerplan's Lease / Property Tax and Powertax modules

At least 3 years of US Utility Accounting experience

Fluency in utility plant accounting knowledge and concepts, including the work order life cycle

Knowledge of SQL markup and queries

Excellent written and verbal communication skills in English

Able to navigate and resolve ambiguities in a complex project environment

Highly motivated with a positive attitude and problem-solving approach

Ability to facilitate and direct meetings towards a positive outcome

Manage project teams with members in multiple geographies and time zones

Proven track record of prior product management or product owner experience

Experience in assembling and leading technical and functional teams

Demonstrated ability to interact comfortably with all levels of management
National Grid is an equal opportunity employer that values a broad diversity of talent, knowledge, experience and expertise. We foster a culture of inclusion that drives employee engagement to deliver superior performance to the communities we serve. National Grid is proud to be an affirmative action employer. We encourage minorities, women, individuals with disabilities and protected veterans to join the National Grid team.
Success Profile
What makes you a successful Information Technology team player at National Grid? Check out the top traits we're looking for and see if you have the right mix.
Strategic
Inventive
Collaborative
Proactive
Results-driven
Leadership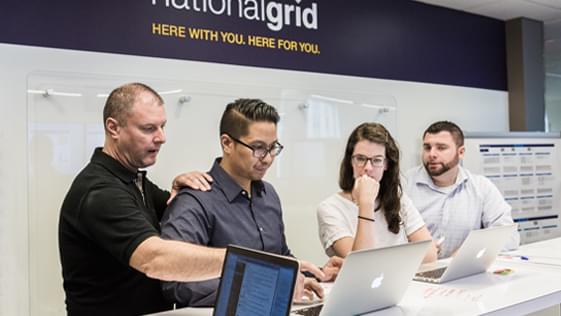 Our culture
A culture of inclusivity where the best ideas can come from anywhere.
A belief that we do our best work when we all work together.
An understanding that to engineer the future, you have to think out of the box.
Rewards
Healthcare

401(k)

Continuing education

Paid time off

Employee assistance (EAP)

Health & wellness
You may also be interested in