OT Cyber Security US Engineering Manager
Waltham, Massachusetts
Overview
Our IT ambition is to be recognized for 'Transforming National Grid into the leader of the digital energy future'. Market innovation will drive the digital utility. We plan to enhance our IT offerings, mature the way we interact with our business partners, and transform the culture of our teams. Culturally, we will be placing a stronger emphasis on designing systems around the end user. We are establishing an operating model based on accountability and empowering our workforce to share ideas and drive continuous improvement. There will be clear career options within the company, both management and technical. We are focusing on enhancing and investing in both leadership capability and developing necessary technical expertise.
Job Description
OT Cyber Security US Engineering Manager
Organization Information Technology
Department IT Security Cyber Engineering
As part of National Grid's continued commitment to safety, all new hires must be fully vaccinated against COVID-19. Anyone unable to be vaccinated, either because of a sincerely held religious belief or medical reason can request a reasonable accommodation.
About us
National Grid is hiring an Operational Technology (OT) Cyber Security US Engineering Manager for our global OT Cyber Security Team! 

Every day we deliver safe and secure energy to homes, communities, and businesses. We are there when people need us the most. We connect people to the energy they need for the lives they live. The pace of change in society and our industry is accelerating, and our expertise and track record put us in an unparalleled position to shape the sustainable future of our industry. To be successful, we must anticipate the needs of our customers, reducing the cost of energy delivery today and pioneering the flexible energy systems of tomorrow. This requires us to deliver on our promises and always look for new opportunities to grow, both ourselves and our business.
Location: Candidates are required to reside in Connecticut, Massachusetts, New Hampshire, New York, Pennsylvania,  Rhode Island, or Vermont.  Hybrid and flexible working are ingrained into our culture. This permanent role offers a mix of office and home working.  This position will require up to 35% regional travel as necessary and appropriate.

About the role
In today's rapidly changing, digitized global environment, cyber security continues to play an ever more critical role in protecting both physical and cyber assets. The OT Cyber Security Team is charged with securing National Grid's most vital assets from internal and external threats. The nine highly-technical engineers on the team design, implement, maintain, and support cutting edge cyber security solutions with this mission in mind. As the US Engineering Manager, you will be responsible for leading, coaching, and supporting outstanding team performance. This dynamic position will provide the opportunity to work on high-profile projects spanning the business – from Gas and Electric to Renewables – while delivering to key internal and external stakeholders in the United States and United Kingdom. 
Specifically, US OT Cyber Security is responsible for engineering and delivering a blend of security controls including, but not limited to: firewalls, intrusion detection systems, privileged access solutions, secure remote access architecture, and vulnerability management tools. Team members also work closely with Electric, Gas, and Renewables business teams to ensure non-IT sanctioned pilots and projects are secured by design.
Key Accountabilities
Implementation of the OT product roadmap in collaboration with the OT Product Manager and OT Product Owners to meet business requirements.
Sanctioning and ownership of US OT Cyber Security projects – ensuring alignment with National Grid's Solution Delivery Framework along with tracking and forecasting project finances to comply with company requirements.
Ownership and management of the US OT Cyber Security team's budget and responsibility for reviewing and approving team expenses.
Development and nourishment of key US business stakeholder relationships in the Electric, Gas, and Renewables businesses.
Continuous improvement of OT Cyber Security services – taking a customer centric approach.
Responsibility for the US OT Cyber Security Team's performance, setting clear objectives and targets for the year, monitoring performance and holding the team to account, and celebrating successes and driving for improvement.
Motivation and inspiration of US OT Cyber Security Team members – seeking to hear and respect diversity of thought while empowering and trusting the team to make the right decisions.
Recruitment, selection, on-boarding, and training of new team members.
The OT Cyber Security Team is accountable for:
Identification, development, and delivery of robust and innovative cyber security solutions.
Engineering and design of cyber security products and solutions, including but not limited to: architecture reviews, vendor engagements, and testing/implementation of controls.
Application and execution of risk assessments within Industrial Control Systems (ICS), Supervisory Control and Data Acquisition (SCADA), and OT environments.
Engagement with key business stakeholders to ensure delivery of customer requirements.
Ongoing support for delivered solutions throughout product lifecycle.
About you
Ideally you will have:
Required
Bachelor's degree, ideally in Electrical or Mechanical Engineering, Computer Science, Business Administration, or equivalent experience.
Applied practical experience with ICS, SCADA, and/or OT environments.
Strong understanding of key cyber security controls to be implemented within OT environments.
Strong understanding of OT networks, protocols, and assets/devices.
Ability to influence key stakeholders and connect with different parts of the business.
Ability to define and deliver services to internal and external customers, while achieving excellent customer satisfaction.
Strong analytical and problem-solving skills.
Ability to excel in a high-paced, rapidly changing environment.
Ability to prioritize tasks and execute independently with limited supervision. 
Strong written and verbal communication skills.
Ability to work with virtual teams to solve business challenges.
Preferred
Strong experience in cyber security as applied to ICS, SCADA, Protection and Control (P&C), and/or Distributed Control Systems DCS (e.g., intrusion detection systems and design, OT incident response, vulnerability management, etc.).
Thorough knowledge of typical ICS vulnerabilities, exploitation mechanisms, security testing, and remediation/mitigation measures.
Understanding of IEC 62443, NERC CIP, or ICS/OT standards.
Information Security qualifications, such as CISSP, CISM or GIAC.
Applied practical experience managing Information Technology (IT) infrastructure, such as firewalls, routers, switches, servers, and workstations.
An agile mind-set with experience using agile frameworks.
What you get
A competitive salary depending on experience 
US: As well as your base salary, you will receive a bonus based on personal and company performance and 401K retirement savings plan, comprehensive health plans, 3 weeks paid vacation plus 10 fixed holidays and 2 personal days and an option to buy extra holidays.  You will also have access to a number of flexible benefits that support your work life balance! 
More Information
We encourage candidates to submit their applications as early as possible and not to wait until the published closing date. National Grid's recruitment periods can and may vary. We reserve the right to remove this advert or close it to further applications at any point during the recruitment process.
Grade: Band D2
Global IT /Permanent
For further information please contact Sukhi.Shina2@nationalgrid.com
#LI-HYBRID #LI-SS1
Please be advised that due to the nature of this position, incumbents are subject to federal Drug & Alcohol safety regulations governing US Department of Transportation ("DOT") covered positions, including the Federal Motor Carrier Safety Administration (FMCSA) and Pipeline Hazardous Material Safety Administration (PHMSA). As such, the Company's testing programs and policies regarding the use of federally prohibited drugs or alcohol, for recreational or medical purposes, will remain in effect for these safety-sensitive, DOT covered positions.
This position has a career path which provides for advancement opportunities within and across bands as you develop and evolve in the position; gaining experience, expertise and acquiring and applying technical skills. Candidates will be assessed and provided offers against the minimum qualifications of this role and their individual experience.
National Grid is an equal opportunity employer that values a broad diversity of talent, knowledge, experience and expertise.  We foster a culture of inclusion that drives employee engagement to deliver superior performance to the communities we serve.  National Grid is proud to be an affirmative action employer. We encourage minorities, women, individuals with disabilities and protected veterans to join the National Grid team.  
Success Profile
What makes you a successful Information Technology team player at National Grid? Check out the top traits we're looking for and see if you have the right mix.
Strategic
Inventive
Collaborative
Proactive
Results-driven
Leadership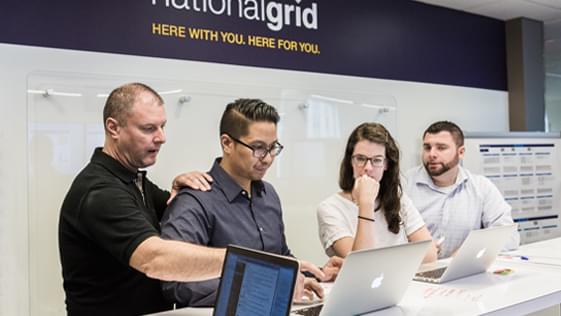 Our culture
A culture of inclusivity where the best ideas can come from anywhere.
A belief that we do our best work when we all work together.
An understanding that to engineer the future, you have to think out of the box.
Rewards
Healthcare

401(k)

Continuing education

Paid time off

Employee assistance (EAP)

Health & wellness
You may also be interested in