Lead Software Engineer, Technical Delivery
Waltham, Massachusetts
Overview
Our IT ambition is to be recognized for 'Transforming National Grid into the leader of the digital energy future'. Market innovation will drive the digital utility. We plan to enhance our IT offerings, mature the way we interact with our business partners, and transform the culture of our teams. Culturally, we will be placing a stronger emphasis on designing systems around the end user. We are establishing an operating model based on accountability and empowering our workforce to share ideas and drive continuous improvement. There will be clear career options within the company, both management and technical. We are focusing on enhancing and investing in both leadership capability and developing necessary technical expertise.
Job Description
Lead Software Engineer, Technical Delivery
Organization Information Technology
Department IT CRM & Digital US
About us
National Grid is hiring for a Lead Software Engineer for our digital department in Waltham, MA.
Every day we deliver safe and secure energy to homes, communities, and businesses. We are there when people need us the most. We connect people to the energy they need for the lives they live. The pace of change in society and our industry is accelerating and our expertise and track record puts us in an unparalleled position to shape the sustainable future of our industry.
To be successful we must anticipate the needs of our customers, reducing the cost of energy delivery today and pioneering the flexible energy systems of tomorrow. This requires us to deliver on our promises and always look for new opportunities to grow, both ourselves and our business.
Job Purpose
As a Lead Software Engineer, you will be involved in the product development process from ideation to launch, working closely with software engineers, product managers, UI/UX designers, and key stakeholders across the organization to deliver the best digital experiences for our users. You will actively contribute to the success of the team by innovating, participating in technical discussions, and contributing to the development of products that will transform the organization. 
Key Accountabilities
Front-end and/or back-end software engineering 
Write well-designed, testable, and efficient code 
Contribute to the Integration of software components into a fully functional software system  
Contribute to software verification plans and quality assurance procedures  
Document and maintain software functionality  
Collaborate with business and technical stakeholders on the development of digital products  
Consult with end users to refine, redesign, and perfect large-scale solutions  
Contribute to IT standards, procedures, and process 
Contribute to software verification plans and quality assurance procedures  
Document and maintain software functionality  
Supervisory/Interpersonal- Experience Required
Able to clearly communicate technical concepts to both technical and non-technical audiences.
Demonstrated ability to interface effectively and collaborate with third party suppliers/vendors.
Qualifications
Bachelors
5-10 Years experience
Software engineering experience in a structured team and environment  
Exhibited best practices in software engineering  
Code and version management experience  
Knowledge of some form of Lean software development methodology (eg, Agile SCRUM)  
Full software development life cycle knowledge  
Practical knowledge of RESTful API's 
Practical knowledge of database technologies 
Practical knowledge of Continuous Integration/Continuous Delivery 
Demonstrate flexibility to respond to the changing needs of the business 
More Information
This position has a career path which provides for advancement opportunities within and across bands as you develop and evolve in the position, gaining experience, expertise, and acquiring and applying technical skills. Internal candidates will be assessed and provided offers against the minimum qualifications of this role and their individual experience.
National Grid is an equal opportunity employer that values a broad diversity of talent, knowledge, experience, and expertise. We foster a culture of inclusion that drives employee engagement to deliver superior performance to the communities we serve. National Grid is proud to be an affirmative action employer. We encourage minorities, women, individuals with disabilities and protected veterans to join the National Grid team.
Success Profile
What makes you a successful Information Technology team player at National Grid? Check out the top traits we're looking for and see if you have the right mix.
Strategic
Inventive
Collaborative
Proactive
Results-driven
Leadership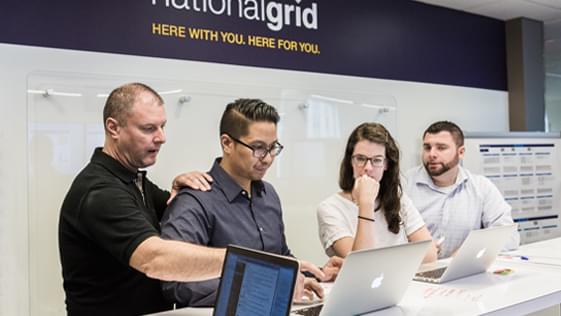 Our culture
A culture of inclusivity where the best ideas can come from anywhere.
A belief that we do our best work when we all work together.
An understanding that to engineer the future, you have to think out of the box.
Rewards
Healthcare

401(k)

Continuing education

Paid time off

Employee assistance (EAP)

Health & wellness
You may also be interested in