Graduate Development Program, Associate Software Analyst, IT - Digital Platforms
Waltham, Massachusetts
Overview
Our IT ambition is to be recognized for 'Transforming National Grid into the leader of the digital energy future'. Market innovation will drive the digital utility. We plan to enhance our IT offerings, mature the way we interact with our business partners, and transform the culture of our teams. Culturally, we will be placing a stronger emphasis on designing systems around the end user. We are establishing an operating model based on accountability and empowering our workforce to share ideas and drive continuous improvement. There will be clear career options within the company, both management and technical. We are focusing on enhancing and investing in both leadership capability and developing necessary technical expertise.
Job Description
Graduate Development Program, Associate Software Analyst, IT - Digital Platforms
Organization Information Technology
Department Global Head IT Service Delivery
As part of National Grid's continued commitment to safety, all new hires must be fully vaccinated against COVID-19. Anyone unable to be vaccinated, either because of a sincerely held religious belief or medical reason can request a reasonable accommodation.
About Us
The world of energy is changing faster than ever. At National Grid, the work you do will touch lives and shape the way we use and consume energy for generations to come. Every day we deliver safe and secure energy to homes, communities, and businesses. We connect people to the energy they need for the lives they live. The pace of change in society and our industry is accelerating and our expertise and track record puts us in an unparalleled position to shape the sustainable future of our industry. To be successful we must anticipate the needs of our customers, reducing the cost of energy delivery today and pioneering the flexible energy systems of tomorrow. We're planning, innovating, and working to be as vital and relevant as ever before for our customers and communities.  Join us and be at the heart of clean energy transition. 
About the Graduate Development Program
National Grid's Graduate Development Program (GDP) is an in-depth training and development program for high achieving recent college graduates who aspire to take on future leadership roles in a dynamic, ever-changing industry. Graduates are the future of National Grid. Bringing fresh thinking, new perspectives, and enthusiasm to our team, we'll give you real responsibility and an opportunity to make an impact from day one – putting the power to supercharge your career in your hands. 
Graduates start their careers at National Grid with an in-depth 4-week in-person Orientation which gives you exposure to all parts of the company, allows you to network with your Graduate cohort, GDP alumni, and senior leaders, and provides you with the opportunity to travel throughout our service territory in the northeast US. Following Orientation, Graduates begin working in their hired position and take part ongoing development activities through your first year including monthly development sessions, active mentorship, and a Capstone Project at the completion of your first year with National Grid. 
Information Technology and Digital Graduate Rotations
Advancing our Technology capabilities are vital to National Grid's ability to realize our vision to be at the heart of a clean, fair and affordable energy future.  IT & Digital seeks to attract and develop high potential recruits, to enable the clean energy transition for all, deliver for our customers efficiently and ensure we maintain resilient, secure and compliant technology solutions. Our student programs help you develop technical and leadership skills and build core competencies that will shape the future of how National Grid leverages technology. This position gives you the opportunity to participate in our IT Graduate Development Rotational Program, an 18-month experience consisting of three 6-month rotations in varying IT departments.  Your first rotation will be in the role outlined below and you will return to this role following two broadening 6-month rotations where your knowledge of IT at National Grid will be expanded. 
About the Position
As an Associate Software Analyst, you will support the Digital Platforms team to empower and serve the internal business, technical and product teams at National Grid to meet their business goals with a strong collaborative mind-set at the center of all that we do.
This is a hybrid role that is mostly remote with as needed in-office meetings, trainings, and teambuilding.
What You'll Do
You will have the opportunity see and make an impact on how data, technology, and analytics drive decisions in a large global energy company!
You will:
Deliver new applications or frameworks in the form of novel software and hardware solutions to inform the future strategic direction of the business.

Leverage and deploy existing software and hardware as part of existing IT assets to refine technical solution methodology.

Help to enable our platform and products team to deliver business outcomes.

Assist in delivering automation (Build, Test, Deploy, Quality, Security).
What You'll Need
Ability to build business relationships, team-oriented mentality

Bachelor or Master's degree in Computer Science, Software Engineering, Mathematics, Statistics, Technology or a related degree is preferred from an accredited institution    

Graduated between May 2022 and June 2023   

Ability to begin the National Grid Graduate Program May 30, 2023 or June 26, 2023   

Valid US driver's license   

Proven leadership experience    

Applicants for the Graduate Development Program must have work authorization that does not now or in the future require sponsorship of a visa for employment authorization in the United States (such as sponsorship for an H-1B, TN, O, L, STEM OPT, or other employment-based work authorization)
It would be awesome if you had
Experiences with Azure or cloud environments

Experiences working with databases or data warehousing

Experiences with machine learning and AI
Salary
Waltham, MA $58,000 - $67,000 a year
This position has a career path which provides for advancement opportunities within and across bands as you develop and evolve in the position; gaining experience, expertise and acquiring and applying technical skills. Candidates will be assessed and provided offers against the minimum qualifications of this role and their individual experience.
National Grid is an equal opportunity employer that values a broad diversity of talent, knowledge, experience and expertise.  We foster a culture of inclusion that drives employee engagement to deliver superior performance to the communities we serve.  National Grid is proud to be an affirmative action employer. We encourage minorities, women, individuals with disabilities and protected veterans to join the National Grid team.  
Success Profile
What makes you a successful Information Technology team player at National Grid? Check out the top traits we're looking for and see if you have the right mix.
Strategic
Inventive
Collaborative
Proactive
Results-driven
Leadership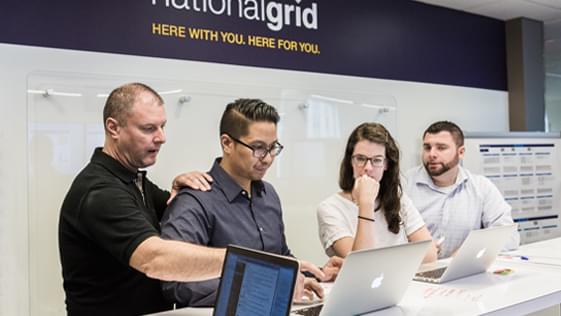 Our culture
A culture of inclusivity where the best ideas can come from anywhere.
A belief that we do our best work when we all work together.
An understanding that to engineer the future, you have to think out of the box.
Rewards
Healthcare

401(k)

Continuing education

Paid time off

Employee assistance (EAP)

Health & wellness
You may also be interested in