Product Manager, SOAR
Syracuse, New York
Overview
Our IT ambition is to be recognized for 'Transforming National Grid into the leader of the digital energy future'. Market innovation will drive the digital utility. We plan to enhance our IT offerings, mature the way we interact with our business partners, and transform the culture of our teams. Culturally, we will be placing a stronger emphasis on designing systems around the end user. We are establishing an operating model based on accountability and empowering our workforce to share ideas and drive continuous improvement. There will be clear career options within the company, both management and technical. We are focusing on enhancing and investing in both leadership capability and developing necessary technical expertise.
Job Description
Product Manager, SOAR
Organization Information Technology
Department IT Information Security
About us

National Grid is hiring a Security Product Director, SOAR for our security team in Syracuse, NY.  

Every day we deliver safe and secure energy to homes, communities, and businesses. We are there when people need us the most. We connect people to the energy they need for the lives they live. The pace of change in society and our industry is accelerating and our expertise and track record puts us in an unparalleled position to shape the sustainable future of our industry.

To be successful we must anticipate the needs of our customers, reducing the cost of energy delivery today and pioneering the flexible energy systems of tomorrow. This requires us to deliver on our promises and always look for new opportunities to grow, both ourselves and our business.
Job Purpose

National Grid delivers gas and electricity to many millions of people across Great Britain and North Eastern US in an efficient, reliable, secure and safe manner. We protect our people, our premises, and digital systems with the objective of maintaining trust in National Grid services. Our mission which we believe in and are excited by is the opportunity to create a world class Security team to defend critical national infrastructure in the UK and US and the millions of customer communities that we serve.

Cyber Security Services are responsible for the planning, design, implementation and ongoing support of effective cyber solutions. Our vision is to be recognised as a world leading Security function in the energy sector and a trusted partner across National Grid businesses. Working alongside engineering, the Product Team drive and deliver the long-term product vision, strategy, and continually align the products with the organization's needs. 

We are looking for a Product Director in the SOAR (Security Orchestration, Automation, and Response) domain, to lead the development of security capabilities to support Security Operations. The product scope includes logging and monitoring, automation, incident management, and vulnerability management. This is a critical security domain ensuring the security of our networks and keep US and UK energy services secure using the latest technologies and innovations.

As a Product Manager you will drive the development and release of innovative products, features and services that answer pressing business needs. You are responsible for developing and delivering the product vision, roadmap and associated products. You work with stakeholders from across the business to identify and prioritise requirements and manage expectations. You bring the customer voice to the conversation and ensure the delivery of value to our customers.

This is a role with a new team who have recently transformed to new ways of working. We are looking for an experienced Product Manager with good cyber security knowledge, experience of Security Operations, Incident Response, and Vulnerability Management services, in addition to working alongside engineering teams, and high impact leadership skills. This is a great opportunity to help build a high performing team in a critical infrastructure industry.
Key Accountabilities

•    Develop and manage the SOAR & Vulnerability Management domain product roadmaps and horizon planning
•    Prioritise the product roadmap effectively; manage trade-offs between tactical priorities and strategic fit and use data on current performance and threat insights to inform decisions 
•    Identify all stakeholders and work with them to identify requirements
•    Manage user expectations and maximise value to customers across the full product lifecycle
•    Collaborate with the business users, product owners, and engineering teams 
•    Work with engineers on a technical level, support business stakeholders and manage vendor relationships
•    Deeply understand customer, business and stakeholder needs, desires and area trends and keep them at the centre of all you do
•    Provide product expertise for the rest of the organisation, invest in understanding current innovations and practices and bringing these to life in National Grid
•    Impactful; delivering value through continuous improvement of products and services to support the needs of the Security Operations Center.

Knowledge, Experience and Technical Know How

•    Strong knowledge of cyber threats, adversary activities and developing Security Orchestration, Automation and Response (SOAR) platforms which enable timely detection & response processes
•    Strong knowledge of Security Operations, including Incident and Response services, Threat Intelligence, and Vulnerability Management
•    Strong knowledge and experience designing and implementing technical security solutions within the Security Operations domain
•    Strong track record of understanding customer needs, creating innovative outcomes to problems and leading engineering teams to deliver successful products
•    Adept at working with users and groups at all levels to obtain requirements, and experience of working with global teams and stakeholders
•    Familiar with solving complex cyber security problems by automating workflows
•    A critical thinker with an analytical mind-set and adept at evaluating opportunities to reach goals
•    Experience leveraging Design Thinking concepts to build digital experiences to meet customer needs
•    An agile mind-set with experience using agile frameworks
•    Knowledge/experience of MS O365, SNOW, Jira, Confluence
Leadership Qualities & Business Capabilities

•    To translate the future vision and strategy to commercial by anticipating market needs and customer-driven by understanding and addressing customer needs
•    To able to influence key stakeholders and connect with different part of the business
•    To motivate and inspire others- be a role model with an open-mind, seeking to hear and respect diversity of thought while empowering and trusting others to make the right decisions
•    To keep improving the services and have an end-to-end customer focus approach
•    To build a strong relationship with security, product, and engineering teams, understanding their strengths, aspirations and motivations, adapting your leadership style as the team develops
•    To coach, connect and engage with your team – supporting them to solve their own problems
•    To take responsibility for your team's performance, setting clear objectives and targets for the year, monitoring performance and holding your team to account – celebrating success and driving for improvement
•    To provide regular and ongoing feedback to each team member to aid team performance, and be open to feedback yourself
•    To embed a safety mind-set within your team and create an open, two-way environment for communication and ideas sharing
•    To build a broader network with other leaders across the organisation
•    To actively develop yourself as a leader and be a role model to your team of the type of behaviours you expect
•    To drive action and change to improve the customer experience
•    To identify and implement commercial solutions to deliver value
•    To ensure your team adheres to National Grid data management principles
Qualifications

Essential     

•    Bachelor's degree in Software engineering, business management or related disciplines or relevant professional experience
•    5 years minimum experience in a product or engineering role with responsibility for, and demonstrable success with, at least one major internal enterprise, external commercial or consumer product (or equivalent)
•    English language fluency
•    5+ years of Cyber security experience including experience of Security Operations

Desirable:    

•    CISSP, OSCP (or other VM/Pentest Certification)
•    At least 1 years of experience in IT Delivery projects
•    At least 1 years of experience in system analysis Agile Processes
More Information

This position has a career path which provides for advancement opportunities within and across bands as you develop and evolve in the position; gaining experience, expertise and acquiring and applying technical skills. Internal candidates will be assessed and provided offers against the minimum qualifications of this role and their individual experience.

National Grid is an equal opportunity employer that values a broad diversity of talent, knowledge, experience and expertise. We foster a culture of inclusion that drives employee engagement to deliver superior performance to the communities we serve. National Grid is proud to be an affirmative action employer. We encourage minorities, women, individuals with disabilities and protected veterans to join the National Grid team.
Success Profile
What makes you a successful Information Technology team player at National Grid? Check out the top traits we're looking for and see if you have the right mix.
Strategic
Inventive
Collaborative
Proactive
Results-driven
Leadership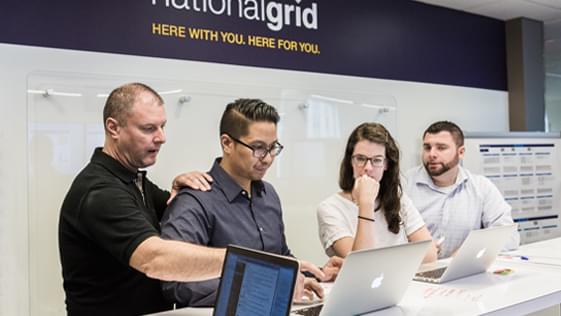 Our culture
A culture of inclusivity where the best ideas can come from anywhere.
A belief that we do our best work when we all work together.
An understanding that to engineer the future, you have to think out of the box.
Rewards
Healthcare

401(k)

Continuing education

Paid time off

Employee assistance (EAP)

Health & wellness
You may also be interested in