Senior Analyst, Security Services
Northborough, Massachusetts
Overview
Our IT ambition is to be recognized for 'Transforming National Grid into the leader of the digital energy future'. Market innovation will drive the digital utility. We plan to enhance our IT offerings, mature the way we interact with our business partners, and transform the culture of our teams. Culturally, we will be placing a stronger emphasis on designing systems around the end user. We are establishing an operating model based on accountability and empowering our workforce to share ideas and drive continuous improvement. There will be clear career options within the company, both management and technical. We are focusing on enhancing and investing in both leadership capability and developing necessary technical expertise.
Job Description
Senior Analyst, Security Services
Organization Information Technology
Department Cyber SSN Security Infrastructure
About us
National Grid is an international Electricity and Gas Company and one of the largest investor-owned energy companies in the world.   We are committed to being an innovative leader in energy management and to safeguarding our global environment. Our ambition is to transform National Grid into the leader of the digital energy future.
Job Purpose
National Grid is hiring a NERC CIP Compliance Analyst who will be responsible for providing leadership, independent compliance oversight, guidance, and direction necessary to maintain ongoing compliance with the NERC Critical Infrastructure Protection (CIP) physical and cyber security framework for the protection of assets within the Secure Services Network (SSN) The SSN is a segregated network that provides Security services to C&I areas of the organization globally. This position sits in the Security organization alongside the Secure Services Network team; however, the positions compliance responsibility crosses all Security towers. 
Key Accountabilities
Demonstrate in-depth understanding of applicable NERC CIP standards.
Maintain a sound technical understanding of cybersecurity, network operations, and other related IT skillsets in use within the SSN. 
Provide strategic direction and compliance oversight in developing, implementing, and evaluating project plans, goals, and timelines for the implementation of internal controls, physical security controls, and cyber security controls. 
Coordinate proactive development and updates to policies, plans, procedures, and recordkeeping of evidence with internal organizations to ensure compliance with NERC CIP requirements. 
Communicate applicable NERC CIP compliance information, standards, and requirements in a clear, concise manner across Security towers with a need to know. 
Monitor and report on NERC CIP compliance status to various stakeholders. This includes both summary compliance/risk reporting for the Executive Leadership Team as well as targeted, actionable reporting to other stakeholder groups. 
Internal NERC CIP subject matter expert
Lead and participate in auditing activities conducted for compliance verification by NERC, Internal Audit and other auditing bodies/regulatory agencies.
Develop and deliver NERC CIP compliance training for various audiences. 
Collaborate with SSN team members to identify and implement technologies to automate and streamline compliance monitoring and reporting processes. 
Actively participate in the cyber security incident management process as a compliance SME. 
Apply understanding of NERC CIP along with other IT disciplines to provide recommendations and/or solutions to business/compliance issues. 
Participate in the evaluation of potential compliance concerns as the NERC CIP SME. 
Facilitate periodic, spot checks when applicable. 
Participate in industry focus groups and conferences to share information and stay abreast of the ever-changing NERC CIP compliance landscape. 
Serve as the liaison between Security and the National Grid corporate NERC CIP compliance team. This includes participating in the development of new standards, changes to existing standards, and the communication of changes to the Security teams impacted. 
Develop, refine, review and update documentation, processes, procedures, and standards to maintain compliance with NERC CIP; develop tools and metrics for periodic reporting
Agility in managing, prioritizing, and executing on multiple priorities based on the needs of the business. 

Qualifications
Experience with physical security, network, server and end point infrastructure, and security-related tools such as whitelisting, IDS/IPS, anti-malware, patch management, baselining, SIEM, access control, and firewalls 
High level understanding of grid operations 
Self-motivated 
Strong organizational skills 
Ability to work independently with minimal day-to-day supervision and ability to collaborate with cross-functional teams 
Working knowledge of Microsoft Word, Excel, PowerPoint, and SharePoint 
The ability to apply one or more risk management frameworks is a plus Education 
Bachelors' degree or higher Experience 
Minimum of 5 years of related work experience 
Minimum of 3 years of managing projects and/or people 
Cyber security and/or networking background preferred

Success Profile
What makes you a successful Information Technology team player at National Grid? Check out the top traits we're looking for and see if you have the right mix.
Strategic
Inventive
Collaborative
Proactive
Results-driven
Leadership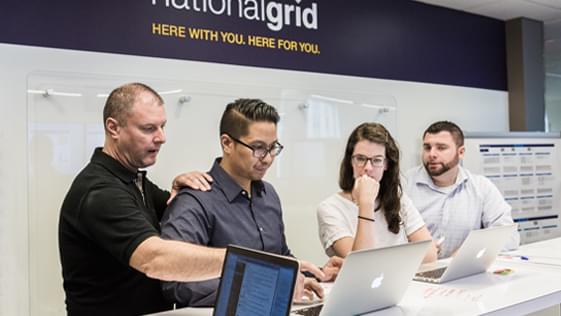 Our culture
A culture of inclusivity where the best ideas can come from anywhere.
A belief that we do our best work when we all work together.
An understanding that to engineer the future, you have to think out of the box.
Rewards
Healthcare

401(k)

Continuing education

Paid time off

Employee assistance (EAP)

Health & wellness
You may also be interested in