Senior Analyst, Critical National Infrastructure
Northborough, Massachusetts; Waltham, Massachusetts; Hicksville, New York; Syracuse, New York; Melville, New York; Brooklyn, New York
Overview
Our IT ambition is to be recognized for 'Transforming National Grid into the leader of the digital energy future'. Market innovation will drive the digital utility. We plan to enhance our IT offerings, mature the way we interact with our business partners, and transform the culture of our teams. Culturally, we will be placing a stronger emphasis on designing systems around the end user. We are establishing an operating model based on accountability and empowering our workforce to share ideas and drive continuous improvement. There will be clear career options within the company, both management and technical. We are focusing on enhancing and investing in both leadership capability and developing necessary technical expertise.
Job Description
Senior Analyst, Critical National Infrastructure
Organization Information Technology
Department CNI OMS US
As part of National Grid's continued commitment to safety, all new hires must be fully vaccinated against COVID-19. Anyone unable to be vaccinated, either because of a sincerely held religious belief or medical reason can request a reasonable accommodation.
About us
National Grid is hiring for a Senior IT Analyst, Critical National Infrastructure for our IT team in Northborough, MA.
Every day we deliver safe and secure energy to homes, communities, and businesses. We are there when people need us the most. We connect people to the energy they need for the lives they live. The pace of change in society and our industry is accelerating and our expertise and track record puts us in an unparalleled position to shape the sustainable future of our industry.
To be successful we must anticipate the needs of our customers, reducing the cost of energy delivery today and pioneering the flexible energy systems of tomorrow. This requires us to deliver on our promises and always look for new opportunities to grow, both ourselves and our business.
Job Purpose
National Grid's Critical National Infrastructure (CNI) department provides IT support services for the applications and environments that drive the company's operations. The Senior IT Analyst position will be part of the team supporting the Outage Management Systems (OMS) and new Advanced Distribution Management Systems (ADMS). The OMS applications are a key component of the company's electric outage restoration process. ADMS is a new platform providing advanced toolsets for monitoring and maintenance of the distribution grid.  This role will be responsible for performing a variety of technical application support tasks for business users across New England and upstate New York. Primary responsibilities will include maintaining our mapping and customer data, troubleshooting data quality issues, and providing first level end user support. 
Key Accountabilities
Works as part of a team to import, update, and troubleshoot spatial data within OMS and ADMS applications
Provides support for interfaces between OMS/ADMS and corporate Geographic Information System (GIS) and Customer Information System (CIS)
Works with control rooms, support team, and others to resolve OMS and ADMS data issues 
Works with other members of OMS support team to investigate and resolve technical issues within the OMS and ADMS systems and environments
Handles first level OMS/ADMS support requests from users (access requests, password resets)
Provides technical support for OMS and ADMS training classes (user access, data preparation, technical issue resolution)
Develops and executes SQL queries and scripts to support ad-hoc data requests
Works with business users and other IS groups to perform application and integration testing as part of regular software releases
Participates in ad-hoc disaster recovery exercises, security testing, and incident management activities
Participates in critical storm support role for OMS applications
Participates as a member of 24/7 on-call support rotation
Supervisory/Interpersonal- Experience Required
Strong skills in verbal and written communication including the writing and reviewing of technical information
Ability to take control of an incident and manage a variety of stakeholders to ensure effective resolution with appropriate communications
Experience of working effectively as an individually, or as part of a highly motivated small to medium sized teams
Qualifications
Educated to degree level is required. Degree in engineering, Computer Science, GIS or comparable discipline is an advantage
5 years of experience providing IT or application support is required
Experience working with geospatial data is highly desired
Experience with technical support of Geographic Information Systems or Outage Management Systems is highly desired. (Smallworld GIS, ABB NMDMS)
Experience working with SQL, Linux command line, Oracle data, or software development tools is highly desired
Experience with control room operations or electric distribution business is desired
Must be able to work effectively with remote teams and management
Salary
$92,000 - $130,000 a year
This position has a career path which provides for advancement opportunities within and across bands as you develop and evolve in the position; gaining experience, expertise and acquiring and applying technical skills. Candidates will be assessed and provided offers against the minimum qualifications of this role and their individual experience.
National Grid is an equal opportunity employer that values a broad diversity of talent, knowledge, experience and expertise.  We foster a culture of inclusion that drives employee engagement to deliver superior performance to the communities we serve.  National Grid is proud to be an affirmative action employer. We encourage minorities, women, individuals with disabilities and protected veterans to join the National Grid team.  
Success Profile
What makes you a successful Information Technology team player at National Grid? Check out the top traits we're looking for and see if you have the right mix.
Strategic
Inventive
Collaborative
Proactive
Results-driven
Leadership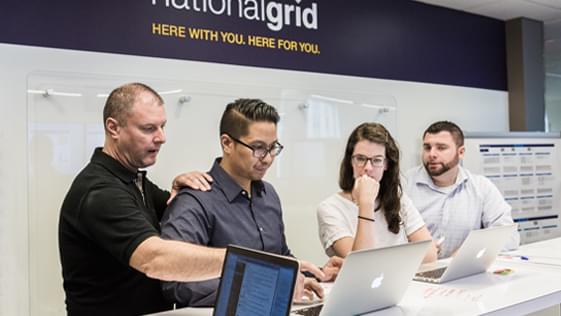 Our culture
A culture of inclusivity where the best ideas can come from anywhere.
A belief that we do our best work when we all work together.
An understanding that to engineer the future, you have to think out of the box.
Rewards
Healthcare

401(k)

Continuing education

Paid time off

Employee assistance (EAP)

Health & wellness
You may also be interested in