Security Operations Analyst
Northborough, Massachusetts; Waltham, Massachusetts
Overview
Our IT ambition is to be recognized for 'Transforming National Grid into the leader of the digital energy future'. Market innovation will drive the digital utility. We plan to enhance our IT offerings, mature the way we interact with our business partners, and transform the culture of our teams. Culturally, we will be placing a stronger emphasis on designing systems around the end user. We are establishing an operating model based on accountability and empowering our workforce to share ideas and drive continuous improvement. There will be clear career options within the company, both management and technical. We are focusing on enhancing and investing in both leadership capability and developing necessary technical expertise.
Job Description
Security Operations Analyst
Organization Information Technology
Department IT Security Operations
About us
Join National Grid's digital transformation! We are digital creators, continuous learners and daring innovators. We leverage digital innovative ways to create products and catalyze the transformation of National Grid's business units into more agile and digitally native organizations in our shared purpose of bringing energy to life. Come and join us on this incredible journey, We need you!
We want to find a highly motivated individual keen to join a dynamic and fast paced organization going through crucial transformation. If you yearn to be innovative and contribute new ideas and play a critical part in the Cyber Security Incident Response team, we want to hear from you!
What you'll do
As a Cyber Security Incident Response Team Analyst, you'll work in a fast-paced operations environment performing monitoring and response activities in the National Grid Global Cyber Security Operations Center. You'll monitor networks, hosts and endpoints for malicious activity using Security Incident and Event Management (SIEM) tools, Endpoint Detection and Response (EDR) tools, Antivirus and Malware detection tools and email security appliances. You'll cover investigation and incident response and ensure all investigative activity is properly documented in our ticketing systems and followed up with relevant support teams.  Key responsibilities include the following: 
Responsible for working in a 24x7 Security Operation Center (SOC) environment.
Event triage and analysis from security log data from various security devices.
Document all analysis steps performed within case management system.
Provide Incident Response support when initial analysis confirms actionable incident.
Coordinate with other analysts and senior analysts and support security teams on incidents. 
Integrate and share information with other analysts and other teams.
Develop, improve, and maintain documentation and processes.
What you'll need
Relevant experience in a Security Operations environment 
Fundamental understanding of networking protocols and infrastructure designs; including cloud infrastructures, routing, firewall functionality, host and network intrusion detection systems, encryption, and other network protocols
Hands-on experience with security technologies like firewalls, anti-virus and SIEM
Experience with the following SecOps processes:
           o    Email Investigations – Including Header Analysis, Office Doc Investigations and Macro Extraction
           o    Basic Malware Analysis – Dynamic analysis
           o    Event Log analysis
Fundamental understanding of Windows and Linux Operating Systems
It would be awesome if you had
Knowledge of the role that a Cyber Security Operations center plays in an organization's security team. 
Experience working in security tools like SIEM, EDR and IDS/IPS solutions 
Demonstrated ability to coordinate and respond to security incidents using commercial and/or open-source technologies.
Experience with Incident Response methodology in investigations, and the groups behind targeted attacks and tactics, techniques, and procedures (TTPs).
What you'll get
Consistent growth potential through company leadership programs
Competitive compensation package including robust benefits with a yearly bonus 
Numerous wellness programs
A multitude of company-endorsed community programs to participate in
More Information
Are you the right fit for this exciting role? You want to learn more about the position and National Grid's ambitious Digital Transformation? Then let's chat!
Apply directly or reach out to me at cyril.lenoir@nationalgrid.com. 

#LI-CL1
At National Grid, we keep the lights on and homes warm. But it's so much more than that. We keep people connected and society moving. This is no easy feat, and it takes all of us. But National Grid supplies us with the environment to make it happen. As we generate momentum in the energy transition for all, we don't plan on leaving any of our customers in the dark. But we aren't looking for external recognition – we already what we do is vital. We're building a clean, fair and affordable energy future.
Salary
$77,000 - $109,000 a year
Please be advised that due to the nature of this position, incumbents are subject to federal Drug & Alcohol safety regulations governing US Department of Transportation ("DOT") covered positions, including the Federal Motor Carrier Safety Administration (FMCSA) and Pipeline Hazardous Material Safety Administration (PHMSA). As such, the Company's testing programs and policies regarding the use of federally prohibited drugs or alcohol, for recreational or medical purposes, will remain in effect for these safety-sensitive, DOT covered positions.
This position has a career path which provides for advancement opportunities within and across bands as you develop and evolve in the position; gaining experience, expertise and acquiring and applying technical skills. Candidates will be assessed and provided offers against the minimum qualifications of this role and their individual experience.
National Grid is an equal opportunity employer that values a broad diversity of talent, knowledge, experience and expertise.  We foster a culture of inclusion that drives employee engagement to deliver superior performance to the communities we serve.  National Grid is proud to be an affirmative action employer. We encourage minorities, women, individuals with disabilities and protected veterans to join the National Grid team. 
Success Profile
What makes you a successful Information Technology team player at National Grid? Check out the top traits we're looking for and see if you have the right mix.
Strategic
Inventive
Collaborative
Proactive
Results-driven
Leadership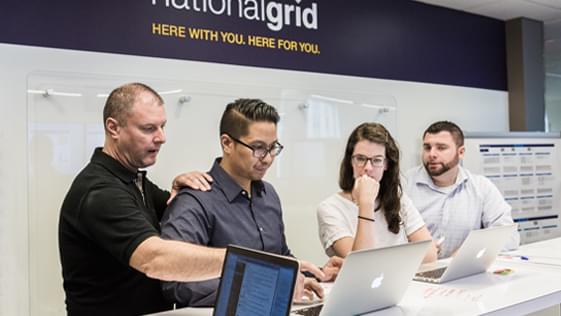 Our culture
A culture of inclusivity where the best ideas can come from anywhere.
A belief that we do our best work when we all work together.
An understanding that to engineer the future, you have to think out of the box.
Rewards
Healthcare

401(k)

Continuing education

Paid time off

Employee assistance (EAP)

Health & wellness
You may also be interested in