Network Security Engineer
Northborough, Massachusetts
Overview
Our IT ambition is to be recognized for 'Transforming National Grid into the leader of the digital energy future'. Market innovation will drive the digital utility. We plan to enhance our IT offerings, mature the way we interact with our business partners, and transform the culture of our teams. Culturally, we will be placing a stronger emphasis on designing systems around the end user. We are establishing an operating model based on accountability and empowering our workforce to share ideas and drive continuous improvement. There will be clear career options within the company, both management and technical. We are focusing on enhancing and investing in both leadership capability and developing necessary technical expertise.
Job Description
Network Security Engineer
Organization Information Technology
Department IT Security Cyber Product
In accordance with guidelines regarding companies classified as Federal contractors and consistent with our core commitment of safety, National Grid has made the decision to require all new hires to be fully COVID-19 vaccinated as a condition of hire. "Full vaccination" is defined as two weeks after both doses of a two-dose vaccine or two weeks since a single-dose vaccine has been administered. Anyone unable to be vaccinated, either because of a religious belief or a disability can request a reasonable accommodation.
Job Title: Network Security Engineer
About us
National Grid is hiring a Network Security Engineer for our security operations team in either Syracuse or Massachusetts! 
National Grid delivers gas and electricity to many millions of people across Great Britain and North Eastern US in an efficient, reliable, secure and safe manner. We protect our people, our premises, and digital systems with the objective of maintaining trust in National Grid services. Our mission which we believe in and are excited by is the opportunity to create a world class Security team to defend critical national infrastructure in the UK and US and the millions of customer communities that we serve.
Our vision is to be recognised as a world leading Security function in the energy sector and a trusted partner across National Grid businesses. As a National Grid Network Security Engineer, you will have a good understanding across multiple Network Security domains.
About the role
As Network Security Engineer you will work collaboratively with the Product and Architecture teams to ensure solutions and services are designed and adopted effectively, including the support functions associated with network and email security systems.
You will be closely working with other members of the network security team and Group IT teams to ensure continued success operation of the National Grid digital data network. With a multi-national network footprint, this role is ideal for those seeking a challenge in a growing business, providing critical infrastructural services to user communities and being part of its success. 
Network Security Engineer is a new role with a new team who have recently transformed to new ways of working. We are looking for an experienced Network Security engineer with good practical cyber security knowledge. This is a great opportunity to join a high performing team in a critical infrastructure industry.

Key accountabilities will include: 
Work with key stakeholders to define needs, identify problems, evaluate potential solutions, and implement improvements
Performs analysis of Network security needs, responsible for design, install, configuration and maintenance of network and email security systems and applications
Fault handling and escalation (identifying and responding to faults, liaising with 3rd party suppliers, handling escalation through to resolution)
Strong focus on innovations and respond quickly and confidently to change
Challenge ideas and methods while working together with talented, highly skilled team members
Maintain and develop knowledge of technology trends
Maintenance of technical documentation of processes and procedures used throughout normal operations
About you
Knowledge Experience and Technical Know: 
Strong track record of understanding customer needs, creating innovative outcomes to problems and leading engineering teams to deliver successful products
A critical thinker with an analytical mind-set and adept at evaluating opportunities to reach goals
An agile mind-set with experience using agile frameworks
Experience of working with global teams and stakeholders
Prior Critical National Infrastructure (CNI) and utility industry experience useful
Strong experience in enterprise Network Security and large-scale network security operations.
Experience in supporting and managing a wide range of Network Security domains such as:

Next Generation Firewalls, 
Secure Web and Email Gateway, 
DNS Security, 
DLP, 
Device Hardening etc

Demonstrated ability to analyse complex situations and utilize troubleshooting skills, systems and tools, and creative problem-solving abilities under pressure.
Ability to effectively communicate technical problems and solutions to technical and non-technical individuals.

Desirable experience:  
Experience implementing and supporting email gateways for one or more of the modern email security gateway providers like Mimecast, Barracuda, Cisco Cloud Email Security (IronPort) Proofpoint
Relevant technical certifications (eg Cisco CCNA / CCNA, Palo Alto, ISC2, Cloud Security etc)

This position has a career path which provides for advancement opportunities within and across bands as you develop and evolve in the position; gaining experience, expertise and acquiring and applying technical skills. Candidates will be assessed and provided offers against the minimum qualifications of this role and their individual experience.
National Grid is an equal opportunity employer that values a broad diversity of talent, knowledge, experience and expertise.  We foster a culture of inclusion that drives employee engagement to deliver superior performance to the communities we serve.  National Grid is proud to be an affirmative action employer. We encourage minorities, women, individuals with disabilities and protected veterans to join the National Grid team.  
Success Profile
What makes you a successful Information Technology team player at National Grid? Check out the top traits we're looking for and see if you have the right mix.
Strategic
Inventive
Collaborative
Proactive
Results-driven
Leadership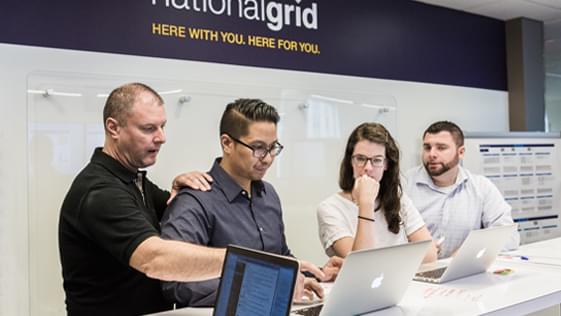 Our culture
A culture of inclusivity where the best ideas can come from anywhere.
A belief that we do our best work when we all work together.
An understanding that to engineer the future, you have to think out of the box.
Rewards
Healthcare

401(k)

Continuing education

Paid time off

Employee assistance (EAP)

Health & wellness
You may also be interested in