Senior Project Manager, IS Projects
Hicksville, New York
Overview
Our IT ambition is to be recognized for 'Transforming National Grid into the leader of the digital energy future'. Market innovation will drive the digital utility. We plan to enhance our IT offerings, mature the way we interact with our business partners, and transform the culture of our teams. Culturally, we will be placing a stronger emphasis on designing systems around the end user. We are establishing an operating model based on accountability and empowering our workforce to share ideas and drive continuous improvement. There will be clear career options within the company, both management and technical. We are focusing on enhancing and investing in both leadership capability and developing necessary technical expertise.
Job Description
Senior Project Manager, IS Projects
Organization Information Technology
Department IT US Gas Delivery
About us
National Grid is hiring a Senior Project Manager for  IT Projects.

Every day we deliver safe and secure energy to homes, communities, and businesses. We are there when people need us the most. We connect people to the energy they need for the lives they live. The pace of change in society and our industry is accelerating and our expertise and track record puts us in an unparalleled position to shape the sustainable future of our industry. 
To be successful we must anticipate the needs of our customers, reducing the cost of energy delivery today and pioneering the flexible energy systems of tomorrow. This requires us to deliver on our promises and always look for new opportunities to grow, both ourselves and our business.

Job Purpose

National Grid is an international Utility Company and one of the largest investor-owned energy companies in the world.   We are committed to being an innovative leader in energy management and to safeguarding our global environment. 
We are currently looking for Rock Stars that want to be part of a growing IT Team. Our IT ambition is to transform National Grid into the leader of the digital energy future. This person must be a self-starter, energetic and have a passion for Project Management. Projects support US Gas business and NY jurisdiction. Projects can be under 1 MM to well over 10 MM. The role could transform into an Agile team role in the future. 
The Senior Project Manager is accountable for working closely with the business and technology to ensure the success of all projects/programs under their supervision. Project manager's work with the business partners to first align on the business case and then plans, executes, and delivers all projects/programs on time, on budget, and within scope in accordance with business priorities. Responsibilities include but not limited to:

Key Accountabilities

•    Lead and drive internal cross functional teams to meet project/program deliverables. 
•    Manage technical issues, risks and priorities. Perform risk assessment and implement risk mitigation plans. 
•    Resolve issues and solve problems throughout the project lifecycle.
•    Create project schedules to identify when each task will be done and by whom. Manage project schedules and lead enforcement of project deadlines in response to the client requirements.
•    Partner with business sponsors to define success metrics and criteria.
•    Proactively identifying resource constraints and working with personnel managers on creative solutions. Manage the unexpected gracefully and effectively. 
•    Lead weekly project meetings with technology team providing transparency to task status and identifying issues.
•    Possibly build, lead, and coach multiple project teams throughout project lifecycles.
•    Proactively communicate and collaborate with external and internal customers to analyse needs and requirements.
•    Implementation of projects using the Software Development Lifecycle model. 
•    Ensure project documents are complete, current, and stored appropriately. 
•    Serve as the conduit and act as liaison between the customers (internal and external), software development team and technical teams. Maintain key relationships with project sponsors to forecast resource needs and communicate those needs to management. 
•    Ensure effective cross-functional teamwork among project team members including both internal and external business, IT and vendors.
•    Identify opportunities for improvement and make constructive suggestions for change, work beyond the IT department to further optimize and improve existing process. 
•    Build a knowledge base of project types to draw from to optimize processes. 
•    Manage software development release cycle; coordinating resources, creating documentation and running release events.
•    Demonstrates the Valued Business Partner capabilities and behaviours in all interactions with IT colleagues, vendors and business stakeholders
•    Monitor project schedule and scope to ensure both remain on track. Initiate and implement appropriate actions. Proactively engage in both quality assurance and risk management activities to ensure project deliverables are met according to IT and client requirements.
•    Meet financial performance targets for the assigned projects and proactively manage change control process both internally and externally.
•    Accountable for budget across assigned project(s) including monthly forecasting and variance reporting. Collaborate with finance to initiate monthly invoicing and reconciliation.
•    Contribute to development and management of Program Delivery metrics (On time and On Budget)
•    Perform other duties as assigned by management.

Qualifications

•    BS in a relevant discipline or, or an equivalent combination of education, training, and experience.
•    Seven (7) to fifteen (15) years of professional experience demonstrating responsibility for participating in and/or managing large scale software programs.
•    Seven (7)+ years of project management or program leadership experience the ability to communicate and work effectively with internal and external customers at all organizational levels.
•    Three (3) to five (5) year experience in managing projects using agile methodology and also oversight to external vendors.
•    Relevant industry certification (e.g. PMP, SAFe, CSM) desirable. Experience with Agile transformation would be beneficial
•    Experience with Utility industry and National Grid preferred 
•    Experience building and managing a project schedule in Microsoft Project or similar project management tool utilizing data-based decision-making (GANTT charts, JIRA, Visio, Confluence etc.) 
•    Ability to lead a large scale projects, including development of plans for scope, timeline, budget, issue management, and managing change.
•    Experience coordinating procurement events (RFP/RFI) and developing statements of work.
•    Experience managing multiple vendors to deliver the full scope of projects/programs.
•    Experience conducting and leading team meetings to manage the schedule, identify risks and review project deliverables. Comfortable with frequent changes or unpredictability.
•    Good customer focus, attitude and excellent interpersonal, verbal and written communication skills
•    Excellent interpersonal skills, the ability to manage complex and varied interpersonal relationships to successfully complete projects.
•    Excellent ability to organize time and information to successfully complete projects. Ability to lead and model behaviours for other team members. Experience with both waterfall and agile project management.
•    IT experience should be mostly on the application development space and some infrastructure experience is also good.
•    PM needs to be motivated, self- starter, takes initiative, has good communication skills and who can thrive in any environment

More Information
This position has a career path which provides for advancement opportunities within and across bands as you develop and evolve in the position; gaining experience, expertise and acquiring and applying technical skills. Internal candidates will be assessed and provided offers against the minimum qualifications of this role and their individual experience.
National Grid is an equal opportunity employer that values a broad diversity of talent, knowledge, experience and expertise. We foster a culture of inclusion that drives employee engagement to deliver superior performance to the communities we serve. National Grid is proud to be an affirmative action employer. We encourage minorities, women, individuals with disabilities and protected veterans to join the National Grid team.
Success Profile
What makes you a successful Information Technology team player at National Grid? Check out the top traits we're looking for and see if you have the right mix.
Strategic
Inventive
Collaborative
Proactive
Results-driven
Leadership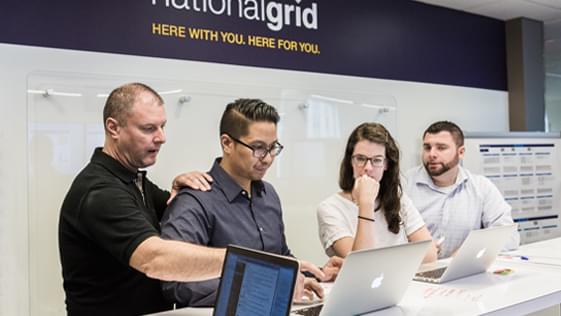 Our culture
A culture of inclusivity where the best ideas can come from anywhere.
A belief that we do our best work when we all work together.
An understanding that to engineer the future, you have to think out of the box.
Rewards
Healthcare

401(k)

Continuing education

Paid time off

Employee assistance (EAP)

Health & wellness
You may also be interested in