National Grid Graduate Development Program
"From power systems to media relations, I have a basic understanding of almost all areas of the company."
National Grid is offering an intense training and development program for recent college graduates. Our program is designed to support graduates in developing as leaders, guiding their careers, and increasing their business talents and skills. It provides opportunities for graduates to explore a broad range of disciplines across our functions and jurisdictions, work on a variety of projects, and expand their business network. Participating departments include:
Electric Process and Engineering
Gas Process and Engineering
Field Operations
Accounting/Finance
Procurement
Process Excellence
Customer
Marketing
Information Systems
These positions may be located in New England (Massachusetts & Rhode Island), Downstate New York (Long Island & Brooklyn) or Upstate New York (Syracuse, Albany & Buffalo).
Once selected, you will take part in an intense eight-week developmental program within targeted lines of business, gaining valuable work experience in a highly regulated industy. Throughout these weeks, you will be pushed past your comfort zone to build effective network connections within each area. You will also be able to take advantage of various learning and development offerings to enhance skills and knowledge of business practices, expectations, deliverables, and operations.
The opportunities available within our Graduate Development Program include:
Engineering Graduate Rotations
Our engineers are shaping the future of the energy industry. Selected Engineering Graduates will be able to experience this exciting work through our very first Engineering Graduate Development Rotational Program, a one-year pilot to help you develop technical and leadership skills. You will experience a wide scope of engineering assignments across our footprint through rotations every three months. Each new hands-on assignment will advance your knowledge of engineering and project management.
Customer Rotations
Established to help customers with insights and solutions for their energy needs today and tomorrow, National Grid's Customer team and potential Graduate rotations includes many customer-facing roles including customer assurance, customer care, customer engagement, customer fulfillment, advanced data & analytics, energy procurement, market development, process & performance and sales & program operations. This one-year rotational program will put you at the forefront of the team's fast-paced and solution-focused culture.
IS Graduate Rotations
IS professionals at National Grid are embarking on a journey of redesigning our next generation of technology. Our IS Graduate Development Rotational Program seeks innovative minds to help us create a sustainable IS infrastructure. This two-year rotational program allows you to experience four different assignments in areas like information security, and other global IS projects.
Field/Business Rotation
Not only will you help support our day-to-day functions, you will also experience challenging assignments that will impact the energy industry. At the conclusion of the orientation period, you will begin work in your functional area to immediately start applying your newly-learned. This will help you gain a wide professional network and a holistic understanding of how we conduct business.

Additionally, all Graduates will develop leadership skills through a variety of activities, training and workshops throughout the first year, exposure to our Executives, networking events, and tours of the various National Grid sites. You will also meet amazing individuals, both within our organization and local communities and will be assigned a mentor who will provide guidance and insight to help you start and progress in your career.
How do you get involved?
All interested candidates must submit a resume and cover letter outlining their qualifications, leadership experience, and explaining why they should be selected for the Graduate Development Program.
Bachelor's or Master's degree from an accredited institution
Concentration in academic studies must be relevant to one of the career paths
Graduated between May of last year and May of current year
Earned a cumulative GPA of 3.0 or higher; official college transcript required for confirmation
Demonstrate effective communication and interpersonal skills
Preference given to candidates with relevant internship experiences
Ability to begin the National Grid Graduate Program this June
Proven leadership experience in at least one of the following:

College leadership position (e.g., student government, clubs, athletics)
Leadership and/or volunteer experience, in and/or out of the college environment
Experienced a full or part-time job while at college and acquired relevant work experience
If you possess the outlined job qualifications and have the desire to work in a highly collaborative environment that places great emphasis on team work, customer focus and results, we invite you to visit our career site to submit your resume.
https://careers.nationalgridus.com/
Please be sure to submit your resume to the posting that meets your degree and preferred geographic location(s).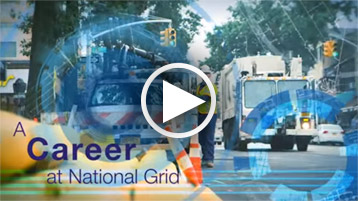 "The environment fostered at National Grid truly lends itself to teamwork and relationship building, and I'm proud to be in a company where I can have what I'm told is a 'work family'"